Keep Yourself and Your Paperwork Organized During Mesothelioma Treatments
A diagnosis of mesothelioma brings an overwhelming feeling to every aspect of life… including being bombarded with information, paperwork, and bills.  Here are some ways that my parents stayed organized throughout the process that may also help you out.
Small things can make a big difference.  One of the first things we did was start writing things down.  A notebook can be an invaluable resource to you.  Write down everything you can:  phone numbers, doctor appointments, information about financial, emotional, and spiritual resources, and anything you think is important.  It's better to have too much information than not enough.  If you're traveling, document hotel information, places to eat, addresses, etc.  Keeping all this material in one place can help so much.  Don't worry about keeping it neat and organized.  As long as you know what's in there, you can find it in a pinch.
Make copies of EVERYTHING!  When you pay a medical bill, get an appointment card, or receive a report… copy it. Many computer printers are fairly inexpensive and come with a built in copier. It is a worthwhile investment to make when you consider how much easier it will be to have multiples of various types of paperwork.
Try to keep all of your correspondence together as much as you can.  Mom and Dad bought a nice size wicker basket that has become the home to everything mesothelioma related.  Knowing that all your information is together is a great deal of comfort… as long as you remember to put things in there.
When you are going to an appointment, take as much with you as you can.  When Mom and Dad go, they remove the information from the basket I mentioned, and put it in a tote bag that has traveled with them over this past year.  It has come in handy so often to be able to immediately hand someone the information they are requesting that could take days to get otherwise.  (Again, those copies come in handy!)
It's easy for things to get lost in the shuffle when so much is happening in your life and the lives of your entire family.  It's not uncommon to forget doctors' appointments even though the appointment cards are all on the refrigerator (another great tip), and that's ok.  It has happened to my parents, and will most likely happen to you, too.  People are very understanding and are there to help you, so don't beat yourself up if you forget.
Hopefully, these little tips will help you out, or give you some ideas on how to stay organized throughout this journey.  If you lose something, don't panic!  Just say a little prayer (Saint Anthony always helps me out), relax, and charge ahead.  Best of luck to all of you!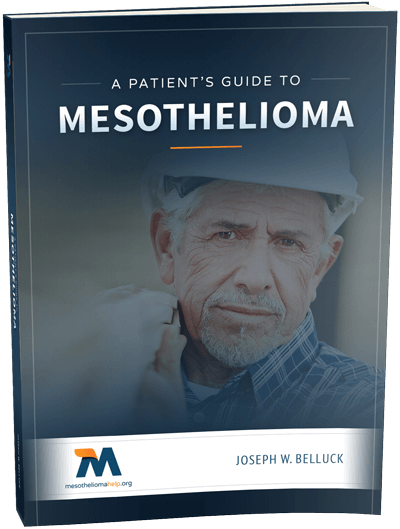 Free Mesothelioma Patient & Treatment Guide
We'd like to offer you our in-depth guide, "A Patient's Guide to Mesothelioma," absolutely free of charge.
It contains a wealth of information and resources to help you better understand the condition, choose (and afford) appropriate treatment, and exercise your legal right to compensation.
Download Now