Mesothelioma Essay Scholarship Contest Winners Announced
The New York City law firm of Belluck & Fox, LLP and Mesotheliomahelp.org are pleased to announce the winners of its first Mesotherlioma essay scholarship contest. Current college students were invited to write an essay about mesothelioma, a terminal cancer caused by exposure to asbestos.
Nearly 60 entries were received for the contest where $10,000 in prize money was offered. The essays had to address a mesothelioma sufferer's personal story, the history of asbestos use in American industry / manufacturing or the latest developments in medical treatments for mesothelioma.
"About 3,000 people are diagnosed with mesothelioma every year and an equal number of mesothelioma patients die every year," said Joseph W. Belluck, a founding partner of the Belluck & Fox, LLP. However, continued public awareness of the disease is important to educate Americans of the dangers of asbestos.
"The scholarship money from our essay contest is another way to help younger people to learn about this disease," Belluck said.
This year's grand prize winner is Betsy Warren of Attleboro, MA. Ms. Warren is a returning student pursuing a degree in nursing at Rhode Island College. Her story, "The Ugly Elephant," was about her father's battle with mesothelioma. Upon being informed of winning the grand prize, Ms.Warren said, "Thank you! My father would be proud right now."
The additional Belluck & Fox, LLP / MesotheliomaHelp.org Scholarship Essay Contest winners are as follows:
$2,500 Second Place: Kimberly McCauley, student at AIU
$1,250 Third Place: Kim Forgione, student at Pacific University College of Optometry
$500 Fourth Place: Kate Nadeau, nursing student at Rhode Island College
$250 Fifth Place: Allison Walker
$100 honorable mention winners are: Jordeen Henry, Carla Patton, Brittany Brooks, Lisa Hu, and Rachel Norton.
Winning essays can be viewed on MesotheliomaHelp.org.
The winners had a second chance to win by sharing their essay with friends and family through Facebook. MesotheliomaHelp.org posted the 10 winning essays on its Facebook page, and the writer whose essay received the most "likes" won an Apple iPad Mini. Kim Forgione received a total of 460 votes to win the iPad.
Stay tuned to MesotheliomaHelp.org as several of the winners are highlighted in upcoming articles.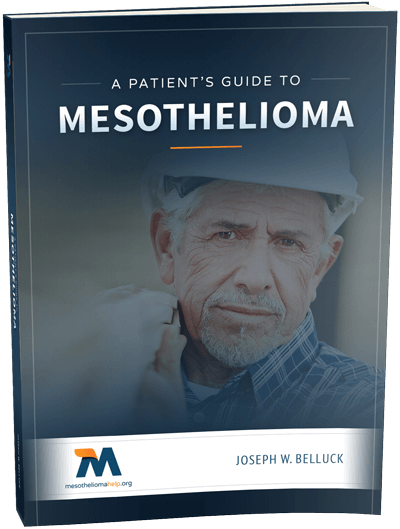 Free Mesothelioma Patient & Treatment Guide
We'd like to offer you our in-depth guide, "A Patient's Guide to Mesothelioma," absolutely free of charge.
It contains a wealth of information and resources to help you better understand the condition, choose (and afford) appropriate treatment, and exercise your legal right to compensation.
Download Now