Mesothelioma Invades All Walks of Life
Once again, mesothelioma has shown that it is a disease that knows no bounds. Last week a famous Hollywood actor, Ed Lauter, and a Pennsylvania man in a local Bluegrass band, Don Smitley, both lost their lives to the rare, asbestos-caused disease. Although from very different backgrounds, the two men spent their last year fighting pleural mesothelioma, that more than likely developed decades after the men were first exposed to the toxic fibers.
Asbestos is a known carcinogen and is proven to cause mesothelioma, lung cancer, asbestosis and other respiratory diseases. Often called "asbestos cancer," mesothelioma is highly aggressive and is resistant to many cancer treatments. The cancer has an extended latency period with diagnosis anywhere from 15 to 60 years after initial exposure to asbestos. Currently, there is no known cure for the disease, and the average survival time varies from 4 – 18 months after diagnosis.
Lauter, 74, was a character actor who starred in over 200 movies, including The Longest Yard, Cujo and recently, The Artist, during his nearly 50-year career. Lauter starred alongside Hollywood A-listers such as Clint Eastwood, Burt Reynolds, and Tom Cruise. According to his publicist, Edward Lozzi, Lauter became ill in May and died last Wednesday from mesothelioma.
Smitley, 57, whose life with mesothelioma was recounted through his daughter's eyes in her Faces of Mesothelioma blog, was diagnosed with the cancer in January 2012. Since then he had surgery, chemotherapy and radiation in an effort to halt the growth of the cancer. Smitley enjoyed playing the guitar with his other band members in The Dunbar Boys, taking walks with his dog, Charley, and mostly he enjoyed spending time with his wife, Judy and daughter, Jennifer. Smitley passed away last Tuesday.
Recent Mesothelioma Deaths Break the Mold
According to Linda Reinstein, co-founder and President/CEO of the Asbestos Disease Awareness Organization, 30 Americans die every day from asbestos-related diseases. The primary demographic of mesothelioma patients is men aged 65 and older with a history of work in construction and general industry.
The U.S. Centers for Disease Control and Prevention reports that of the 18,068 deaths attributed to mesothelioma from 1999 – 2005, over four times more men than women died from the disease. Recently, however, mesothelioma has seemingly ignored the statistics and has taken the lives of young women as well.
In June, 37-year-old Janelle Bedel of Indiana, also known as "Wonder Woman," died from mesothelioma after fighting the disease for six years. Janelle tirelessly worked to raise awareness of the cancer, and supported the Asbestos Disease Awareness Organization and the Mesothelioma Applied Research Foundation.
Also in June, Debbie "Muvmuv" Brewer, 54, of England, lost her battle to pleural mesothelioma. Debbie was also a stalwart advocate for the mesothelioma community, and during her seven-year battle with the disease fought to raise awareness of the dangers of asbestos. Debbie's father died from an asbestos-related disease just three months before she was diagnosed in 2006.
The tragedy of mesothelioma is that the disease is entirely preventable by eliminating exposure to asbestos. In its report "Malignant Mesothelioma Mortality — United States, 1999–2005," the CDC notes:
"Although asbestos has been eliminated in the manufacture of many products, it is still being imported (approximately 1,730 metric tons in 2007) and used in the United States in various construction and transportation products.

Ensuring a future decrease in mesothelioma mortality requires meticulous control of exposures to asbestos and other materials that might cause mesothelioma."
Know more about mesothelioma and how you can deal with it.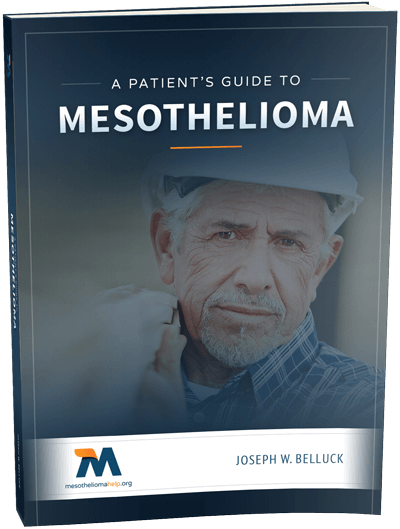 Free Mesothelioma Patient & Treatment Guide
We'd like to offer you our in-depth guide, "A Patient's Guide to Mesothelioma," absolutely free of charge.
It contains a wealth of information and resources to help you better understand the condition, choose (and afford) appropriate treatment, and exercise your legal right to compensation.
Download Now