Tips to Mesothelioma Patients from Rare Disease Sufferer, Sam Berns
Dealing with a rare disease like mesothelioma is not easy. Treatments such as surgery, chemotherapy and radiation are constant reminders of the battle raging inside your body. Managing cancer and its side effects can be stressful and depressing, but finding a way to focus on the positive aspects of your life can make a difference in your physical well-being and in your quality of life.
Sam Berns, a 17-year-old who recently passed away from the rare disease progeria, which causes rapid aging, was faced daily with obstacles, health issues and pain, yet he lived a full and happy life. When asked in an NPR interview what was the most important thing people should know about him, Sam responded simply: "I have a happy life."
During an inspiring speech hosted by TEDx just months before he passed away, Sam offered his three secrets to happiness:
Focus on what you can do, not what you cannot do.
Surround yourself with people you want to be around.
Keep moving forward and continue to strive for something else.
"I try hard not to waste energy feeling badly for myself," said Sam. He added that instead of ignoring the feelings, he "lets them in so that I can acknowledge them, and do what I need to do to move past it."
Many long-term mesothelioma survivors are living testaments to Sam's outlook. Mavis Nye has battled pleural mesothelioma for over four years, and she is probably one of the happiest people you'll meet. Keeping mesothelioma in check is not easy, but Mavis believes that the key to her longevity can be attributed to her joy of life.  And, Mavis spends time with those who bring her joy.
"Ray [her husband] and I enjoy doing so much together," said Mavis. "We are laughing all the time and enjoy camping together in the motor home. That's when we can really relax."
Mavis's attitude is echoed by another mesothelioma warrior, Lou Williams. Lou, who has battled mesothelioma for nearly ten years, raised a toast to herself and other mesothelioma patients on New Year's Day, saying: "Here's to being here in 12 months time and to living well in the meantime – doing what we love – travelling, spending time with family and friends and fitting as much into our lives as we do now!"
Jan Egerton also offered a New Year's resolution to all mesothelioma patients, encouraging "everyone in the mesothelioma community, whether you are a patient or a caregiver, to keep a positive attitude and to remember that for every bad day there will be a good one."
Just like Sam, mesothelioma patients are faced with an uncertain future. But even when Sam was at his lowest and in the hospital fighting another complication, he focused his thoughts on looking forward to when he would be better. He was buoyed by his fourth philosophy, "I never miss a party if I can help it!"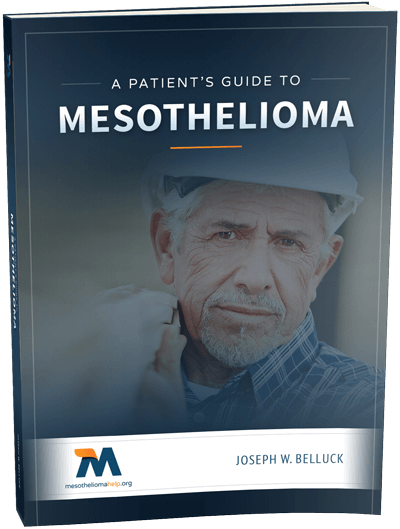 Free Mesothelioma Patient & Treatment Guide
We'd like to offer you our in-depth guide, "A Patient's Guide to Mesothelioma," absolutely free of charge.
It contains a wealth of information and resources to help you better understand the condition, choose (and afford) appropriate treatment, and exercise your legal right to compensation.
Download Now