Jennifer Gelsick Thinks of Her Father Three Months After He Loses His Fight With Mesothelioma
January 15 marked three months since I lost my Dad. A lot has changed, many adjustments have been made both internally and externally. Although life is not the same without him, we have been doing our best to carry on while carrying Dad with us.
For me, every day starts out a little differently.  I used to call Dad every morning to check in, see how he was doing, and let him know what my plan for the day was.  He loved hearing about our businesses. Where was Mikey working today?  Do you have any meetings? He was so proud and interested, it made even the worst days of work worth it, knowing that I could share my stories with my Dad.
Every time something funny or remotely interesting happens, I always want to reach for the phone to call him. On Thanksgiving morning, as we got ready to make the trip to see my family, we put our dog in a sweater. It was funny and I knew Dad would get a kick out of it. I thought to myself, "Since Dad won't be there today to see this, I'll text him a picture." Instantly, I felt a pain in my heart. They say that old habits die hard – how true.
Even though I have these lapses from time to time, I have been working hard to remember that Dad would want me to enjoy every second that God blesses me with, not to worry about him, especially since he's now in Heaven. I talk to Dad a lot and that helps me. Sometimes, when I'm not sure what to do, it's almost like he's telling me what path to take. This comforts me so much; Dad always gave the greatest advice.
The pain of losing my father is still very fresh, but I feel like I can now handle it a little better. Talking to family members and friends, watching home movies, and just reminiscing about how wonderful he was now brings me comfort and not so much pain.
It's been said that time heals all wounds. I'm not sure that this wound will ever be healed, but I guess we have to learn to tolerate the pain in some sense. With faith and trust in God, all will be well. For all of us who have lost a loved one, let's keep working to find a cure for mesothelioma, so that others can avoid this wound.
Know more about Mesothelioma and how you can deal with it.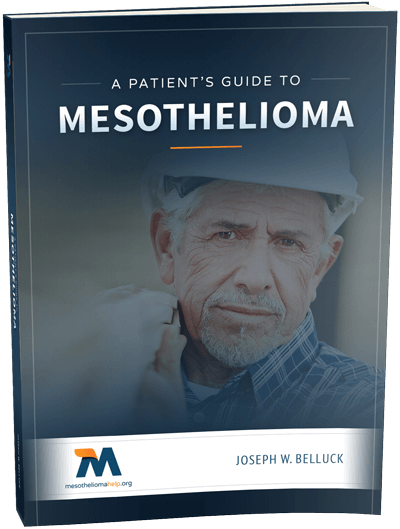 Free Mesothelioma Patient & Treatment Guide
We'd like to offer you our in-depth guide, "A Patient's Guide to Mesothelioma," absolutely free of charge.
It contains a wealth of information and resources to help you better understand the condition, choose (and afford) appropriate treatment, and exercise your legal right to compensation.
Download Now