A Fond Farewell to Jan Egerton – Friend and Mesothelioma Warrior
Jan Egerton, wife, author, friend to countless people worldwide, and a decade-long mesothelioma warrior, lost her battle to the cancer this morning. The mesothelioma community rallied around Jan, and her husband Gary, during this last week as Jan was released from the grips of the disease that she despised.
Since being diagnosed with pleural mesothelioma in 2004, Jan has undergone nearly every procedure available to mesothelioma patients including multiple rounds of chemotherapy, several surgeries, cryoblation, radiation and various other procedures to hold the cancer cells at bay. The journey with the "nasty cancer," Jan told me one day, "is like a nonstop roller coaster." Yet, throughout all she endured, Jan's love of her husband, her beloved dogs, Bear and Lexi, and life itself never failed to shine through.
I reached out to Jan just over a year ago to ask her if she would allow me to share her story on Mesothelioma Help of her ups and downs with her battle against mesothelioma. However humble, she supported my stories about her, and also wrote her own articles for us to post to ensure a patient's voice is heard. She said, "I hope that by sharing my information here, I can help others find the reality of what happens to people with mesothelioma." I could not have known that a year later I would be mourning the loss of not just a courageous woman, but of a friend who welcomed me into her world with open arms.
Jan was a true inspiration and her positive attitude and fighting spirit gave strength to everyone in the mesothelioma community, and anyone lucky enough to have met her. And that was evident in the outpouring of support on Facebook over the last few days: "You are an inspirational fighter who will be sadly missed." "Your survival story has and will be a beacon of hope to me for years to come." "We are proud of the gallant fight you are fighting." One person echoed everyone's thoughts best, saying simply, "I hate you mesothelioma."
Jan not only created a Facebook community for mesothelioma patients and families to meet and support each other, but she carefully chronicled her journey and hopes through her blog, "Mesothelioma – Jan's Journey." For Jan, writing was a release for her and it helped her deal with her cancer. Instead of "mesothelioma eating away at me from the inside, writing has given it a way to come out and keep me sane," she said.
Jan wanted others facing a similar battle to know what to expect and to have someone to turn to for support. "We need to help each other, as we know more about this cancer than anyone else."
Jan melded her love of writing with her desire to help find a cure for mesothelioma by writing a novel, "The Dreamweaver's Choice," and by donating the proceeds to the Mick Knighton Mesothelioma Research Fund. For Jan's work with the MKMRF and her continued generosity to help fund research efforts by the organization, Chris Knighton named Jan Ambassador for MKMRF.
"Jan is a source of inspiration and hope to so many people living with mesothelioma," Chris said. "What better person could we have as an ambassador than Jan?"
Jan never gave up in her fight to raise awareness of mesothelioma and to encourage others to fight with her. She reiterated this in her last blog entry on January 12: "To my fellow warriors, keep the torch burning."
Godspeed, my friend.
All of us at Mesothelioma Help send our deepest condolences to Gary and to all of Jan's family and friends during this very difficult time.
Find more of Jan's insights into life with mesothelioma on "Faces of Mesothelioma."
Jan's book, "The Dreamweaver's Choice," is available for Kindle at Amazon.com. USA readers can order here, UK readers can access the book here. [Note: Jan also wrote a second book, "The Vial of Darkness," and just received the hard copies from the printer.] If you would like to download our free e-book, please visit this page.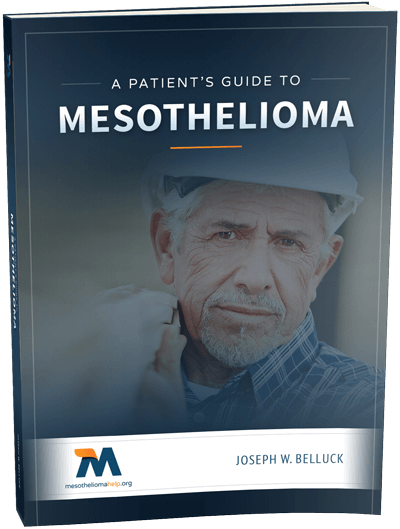 Free Mesothelioma Patient & Treatment Guide
We'd like to offer you our in-depth guide, "A Patient's Guide to Mesothelioma," absolutely free of charge.
It contains a wealth of information and resources to help you better understand the condition, choose (and afford) appropriate treatment, and exercise your legal right to compensation.
Download Now