Part I: Chris Knighton, Founder of the Mick Knighton Mesothelioma Research Fund, Vows to Fight for All Mesothelioma Victims
Many people who lose a loved one to mesothelioma take the time to mourn, but then they get on with their lives. Not Chris Knighton. After her husband died from mesothelioma, Chris vowed that Mick's death would not be in vain. Just one year later, Chris formed the Mick Knighton Mesothelioma Research Fund and has dedicated her life to helping fund research to find a cure for the deadly disease.
In 2000, Mick, a seemingly healthy, fit 59-year-old husband, father and grandfather, was enjoying spending time with his family and traveling Europe and the English countryside when he began having difficulty breathing. One month later, he was diagnosed with the asbestos-caused cancer and was told there were "no treatments, no cure, and no hope" for saving his life. He was given just six months to live, and in March 2001, Chris found herself a widow struggling to make sense of the cruel disease.
Fundraising for Mesothelioma
Driven by her heartbreak and her firsthand knowledge of what other families experience as they deal with a mesothelioma diagnosis, Chris joined in partnership with the British Lung Foundation to establish the Mick Knighton Mesothelioma Research Fund (MKMRF). Through her determination and hard work, Chris has raised over £1 million (.5 million) for mesothelioma research.
"Many of our donors have lost loved ones to mesothelioma, and only by working together can we help fund the kind of research that could deliver real advances in the treatment and understanding of the disease," said Chris in an email interview with MesotheliomaHelp.
Chris is the only 'full-time' MKMRF staff member, although she does not draw a salary, and she is supported by volunteers as needed. As a result, "every single penny raised goes towards research and promoting a greater awareness of the disease," said Chris.
However, getting people to donate to mesothelioma is not easy. Chris has found that the current economic climate, other competing causes and the publics' general lack of knowledge about mesothelioma all work against MKMRF's Fundraising Goals. Chris is constantly working to get the word out about the dangers of asbestos. She distributes MKMRF literature to doctors, clinics and hospitals across the UK, gives talks and presentations at conferences and seminars, and grants interviews to local, national and international press as a way to continually spread the word.
MKMRF Funds a Mesothelioma Tissue Bank
Chris is frustrated by the British government's lack of action in funding mesothelioma research, even though the disease is diagnosed in nearly 2,000 Brits each year, and that number continues to grow. She sees the MKMRF as a way to fill the gap left by the government by raising funds critical to finding a cure for the currently incurable cancer.
One of the primary research projects funded by MKMRF is the Mick Knighton Mesothelioma Tissue Bank (MesobanK). MKMRF donated £300k to create the first formal central depository of mesothelioma tissue and blood in the UK. The goal, according to Chris, is to establish a tissue bank of mesothelioma tumours and blood that will be available to researchers "throughout the UK and beyond." The tissue samples can be used by doctors and scientists as they research novel treatments to help the growing number of people diagnosed with mesothelioma each year.
Chris noted that all ethical approvals needed to collect and store tissue and blood specimens from mesothelioma patients have been finalized. Fresh tumour samples, blood samples and clinical data will be collected over the next three years. Once the set-up phase is complete, "the MesobanK will be open for business," said Chris.
Professor Stephen Spiro, Vice Chair of the British Lung Foundation, is Chair of the MesobanK Steering Committee. Dr Robert Rintoul of Papworth Hospital is Chief Investigator, and Chris serves as a member of the MesobanK Steering Committee. She is also a layperson on the BLF's Scientific Committee.
Chris believes international collaboration is critical if mesothelioma is to be conquered, and she is hopeful the MesobanK will have a huge impact on research into mesothelioma both nationally and internationally.
"Lessons learned about asbestos-related diseases, and in particular mesothelioma, will have a major impact on global health for decades to come," said Chris.
Make a donation or find out more about Chris and the Mick Knighton Mesothelioma Research Fund.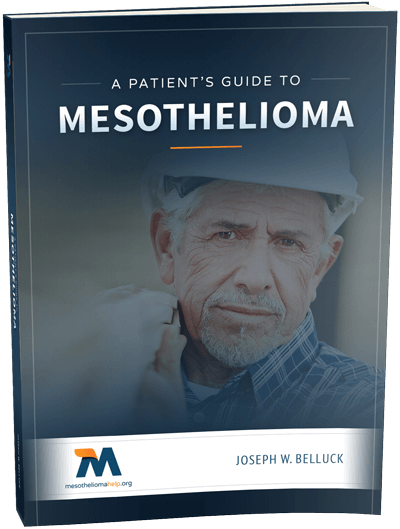 Free Mesothelioma Patient & Treatment Guide
We'd like to offer you our in-depth guide, "A Patient's Guide to Mesothelioma," absolutely free of charge.
It contains a wealth of information and resources to help you better understand the condition, choose (and afford) appropriate treatment, and exercise your legal right to compensation.
Download Now