Part II: Chris Knighton Promised to Fight for Mesothelioma Victims
After she lost her husband to mesothelioma, Chris Knighton formed the Mick Knighton Mesothelioma Research Fund to help find a cure for the asbestos-caused disease. In Part II of this series, see how Chris's efforts earned her a Royal award.
Support Groups and The Snowdrop Memorial
In addition to funding research, the MKMRF offers support groups for anyone who has been touched by mesothelioma. The Mesothelioma Self-help/Friendship Groups provide information and support to sufferers and their families. The groups meet once a month and welcome all whose lives have been affected by mesothelioma.
"We understand how important it is to meet others, and to share experiences, as well as having some fun along the way," said Chris.
Another way to bring families together has been through the Snowdrop Fund. Chris created the fund to raise money, but also as a lasting tribute to loved ones. Families can set up Snowdrop Funds in memory of a loved one through the MKMRF website, and friends and families can make donations to MKMRF in memory of that person.
Often described as looking like three drops of milk hanging from a stem, snowdrop flowers, according to Chris, "work hard through the depth of winter; then come spring they bloom, bringing hope and promise for a better future."
As part of the launch of the Snowdrop Memorial Fund, North Tyneside Council and Gateshead Council agreed to plant 5,000 snowdrops along the banks of the Tyne River in North East England, where thousands of people were previously exposed to asbestos.
Treasured Experience
Chris's resolve to bring an end to deaths from mesothelioma earned her one of the highest honors for an English citizen – Member of the Order of the British Empire (MBE) Award. This is awarded for a significant achievement or outstanding service to the community. An MBE is also awarded for local 'hands-on' service which stands out as an example to other people.
"This is truly a treasured experienced," said Chris upon receipt of the award by Her Majesty the Queen at Buckingham Palace last November.
Although humbled by the honor, Chris has no plans to give up on her quest to help find a cure for mesothelioma.
"For the first time ever, there is much to be positive about in terms of mesothelioma research; therefore MKMRF will continue to raise much needed funding in the hope of delivering real advances into treatment and understanding of the disease."
Make a donation or find out more about Chris and the Mick Knighton Mesothelioma Research Fund.
See Part I of Chris Knighton's fight for Mesothelioma Victims posted last week.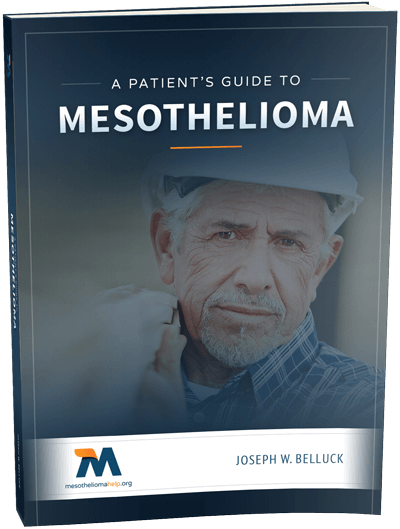 Free Mesothelioma Patient & Treatment Guide
We'd like to offer you our in-depth guide, "A Patient's Guide to Mesothelioma," absolutely free of charge.
It contains a wealth of information and resources to help you better understand the condition, choose (and afford) appropriate treatment, and exercise your legal right to compensation.
Download Now