Useful Mesothelioma Terms for Families Facing Mesothelioma
When dealing with a mesothelioma diagnosis, you learn a new way of life. Everything changes, including your vocabulary. Three terms that I didn't know anything about before mesothelioma came into my life are pleural effusion, thoracentesis, and pleurectomy.
The term "pleural effusion" came into play before Dad's diagnosis. Pleural effusion is essentially fluid in the lung. This was Dad's main, tangible symptom. It was part of the cause of his fatigue and shortness of breath.  He was admitted into the hospital with this diagnosis on Thanksgiving Eve, 2011.
On Thanksgiving Day of 2011, we learned another new word, thoracentesis. Essentially, this is where your lung is "tapped" and fluid is drained from it. Although Dad got a little relief after this was done, the fluid kept returning and was drained again in January, during a VATS procedure (an exploratory surgery that led to his diagnosis), and February 2012 during his pleurectomy.
"Pleurectomy" is a word that was so foreign and scary, but that has become close to our hearts, as it saved Dad's lung and his life. Dr. Harvey Pass performed this surgery on my father on February 15, 2012, at NYU Langone in New York City. To define a pleurectomy in very simple terms, it entails removing the lining of the lung, where mesothelioma usually attaches itself.
So many other terms that you hear in passing become part of your everyday life: chemotherapy, radiation, oncology and ports, just to name a few. When I say that every aspect of life changes, I mean that literally! It does become a lot to take in and can be tough to manage at some points.
Just remember, there are people there to help you 100% of the time.  Pray, keep your faith strong, and take it one day (or word!) at a time.
Know more about Mesothelioma and how you can deal with it.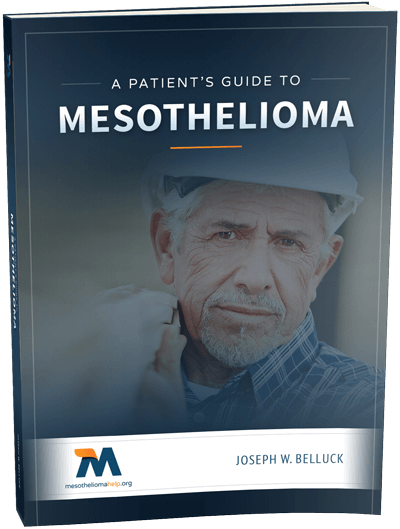 Free Mesothelioma Patient & Treatment Guide
We'd like to offer you our in-depth guide, "A Patient's Guide to Mesothelioma," absolutely free of charge.
It contains a wealth of information and resources to help you better understand the condition, choose (and afford) appropriate treatment, and exercise your legal right to compensation.
Download Now