Mesothelioma Patients Can Join Push to Educate the Public About the Benefits of Palliative Care
When diagnosed with mesothelioma, many patients and their families quickly learn the definition of "palliative care." Mesothelioma is an aggressive, incurable cancer that is difficult to treat. For these reasons, doctors often focus the treatment plan on palliative care, as opposed to curative, and aim for relieving the symptoms and improving the patient's quality of life.
However, according to a survey sponsored by the Center to Advance Palliative Care and the American Cancer Society, 70% of the adults surveyed indicated they were "not at all knowledgeable" about palliative care, and another 8% had never heard of the term. Even non-palliative care physicians are not fully aware of what palliative care offers patients.
Can this be good? According to Dr. Diane E. Meier, director of the Center to Advance Palliative Care and professor of geriatrics and internal medicine at Mount Sinai School of Medicine, New York, the lack of knowledge about palliative care offers a huge opportunity to educate the public and to increase the number of palliative care medical specialists.
In a presentation at the annual meeting of the American Academy of Hospice and Palliative Medicine, Meier stressed that now is the time to educate physicians as well as the general public that palliative care is "actually about relieving the pain, symptoms, and stress of serious illness in patients of any age and at any stage of disease, and that palliative care can be delivered alongside curative or life-prolonging therapies."
After the survey participants were educated about palliative care, 95% of those surveyed said it's important for patients with serious illnesses and their families to learn about palliative care. Further, 92% of them admitted that they would likely consider palliative care for themselves and loved ones when needed.
Dr. Meier and her colleagues believe a nationwide campaign to educate Americans of the importance and effectiveness of palliative care will create a demand for palliative care, thus requiring a "big boost" in the workforce. Meier believes the current staffing level of palliative care specialists is so small "as to constitute a major barrier to access."
To affect change in the perception of palliative care, and to grow the workforce, Meier and others are seeking funding for a 5-year, multi million-dollar social marketing campaign to increase public awareness regarding palliative care. Meier points out that there is one oncologist for every 145 cancer patients, and one cardiologist for every 71 myocardial infarction patients, but there is just one palliative care specialist for every 1,300 people with a serious illness.
The American Society of Clinical Oncology (ASCO) released new guidelines in 2011 regarding palliative care. ASCO encourages physicians to discuss a patient's treatment options and preferences, including end-of-life care, immediately after their terminal diagnosis so the treatment can be individualized from the start. The patient will better understand how palliative care can be used as a complementary treatment option with chemotherapy or radiation, or as the last step in their care.
When stricken with pleural mesothelioma, patients and their doctors continually struggle to keep the patients' lungs free of fluid while trying to shrink the tumors that constrict the lungs and limit the patients' ability to breathe. Palliative care treatment is intended to control pain, stop bleeding, and relieve pressure, while chemotherapy focuses on limiting tumor growth. For many mesothelioma patients, palliative care offers them an opportunity to stay out of the hospital and spend more time with their loved ones.
Know more about mesothelioma and how we can help.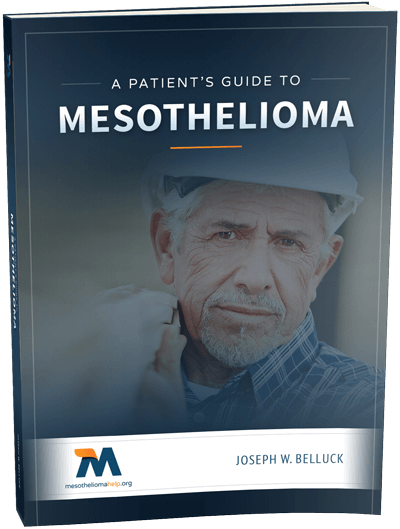 Free Mesothelioma Patient & Treatment Guide
We'd like to offer you our in-depth guide, "A Patient's Guide to Mesothelioma," absolutely free of charge.
It contains a wealth of information and resources to help you better understand the condition, choose (and afford) appropriate treatment, and exercise your legal right to compensation.
Download Now