NORD Honors Supporters of Mesothelioma and All Rare Diseases for Their Commitment to Improving the Lives of Patients
Next week the National Organization for Rare Disorders (NORD) will honor men and women who have made a difference in the lives of people with rare diseases. Rare diseases, such as mesothelioma, AIDS and muscular dystrophy, affect over 30 million Americans, and leave many with terminal illnesses and no treatment.
Due to the rarity of mesothelioma, an aggressive form of cancer caused by asbestos exposure, and all other orphan diseases, managing the disease and trying to find appropriate treatment can be overwhelming to the patients and their families. NORD offers vital services to the public through providing information about diseases, referrals to patient organizations, research grants and fellowships and other critical services for those battling a rare disease.
NORD will honor members of the U.S. Congress, patient advocates, medical researchers, and companies that have brought new therapies to market on Tuesday, May 15, at Union Station in Washington, DC. The award ceremony is part of NORD's annual "Partners in Progress Celebration" that highlights how "stakeholders in the rare disease community work together toward their shared goal of improving the lives of patients."
"This is NORD's opportunity to celebrate excellence and to say thank you on behalf of the patient community to those who have advanced the cause during the previous year," said Peter L. Saltonstall, NORD president and CEO. "We look forward to this event each year, and we truly appreciate the accomplishments it honors."
Some of the NORD awards include: 
National health leadership award, to honor leadership in public policy to improve the lives of patients and families affected by rare diseases, will be presented to North Carolina Senator (D) Kay Hagan, who introduced The Transforming the Regulatory Environment to Accelerate Access to Treatments (TREAT) Act, targeted toward getting treatments in a quick and safe manner to patients with orphan diseases.
Partners in progress corporate awards, to honor companies that have brought important and innovative treatments to market within the previous year, will honor Pfizer, Inc. for Xalkori, known generically as crizotinib, approved by the FDA with a companion diagnostic test to treat certain patients with late-stage, non-small cell lung cancers, and potentially mesothelioma patients, who express the abnormal ALK gene.
A disease is designated as an orphan disease when less than 200,000 Americans are affected by the disease at any given time. Mesothelioma is responsible for approximately 3,000 new cases of cancer each year in the United States.  Although there is no cure for mesothelioma, it can be treated with varying degrees of success through the use of surgical procedures, chemotherapy and radiation.
NORD is a unique federation of voluntary health organizations dedicated to helping people with rare "orphan" diseases and assisting the organizations that serve them. NORD is committed to the identification, treatment, and cure of rare disorders through programs of education, advocacy, research, and service.
Know more about mesothelioma and how you can deal with it.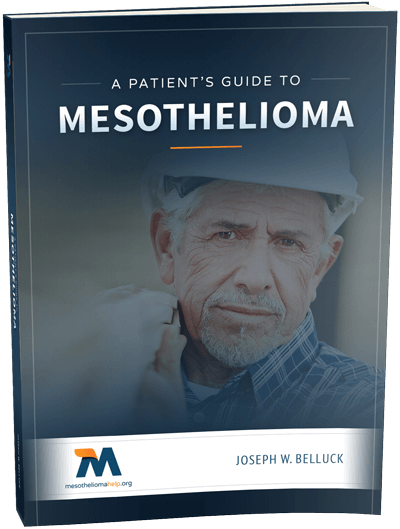 Free Mesothelioma Patient & Treatment Guide
We'd like to offer you our in-depth guide, "A Patient's Guide to Mesothelioma," absolutely free of charge.
It contains a wealth of information and resources to help you better understand the condition, choose (and afford) appropriate treatment, and exercise your legal right to compensation.
Download Now