Mesothelioma Patients Should Heed FDA Warnings Regarding Miracle Cures
In pursuit of its mission to protect the public health by ensuring the safety and efficacy of drugs, the U.S. Food and  Drug Administration sent out warning letters to 14 companies claiming their products can prevent, diagnose, treat or cure cancer. The products, none of which have been approved by the FDA, can be appealing to mesothelioma patients or anyone fighting a terminal cancer, but they could lead to severe illness or, potentially, death.
In each of the 14 letters, found on the FDA's website, the Agency notes that the items being marketed fall under the Federal Food, Drug, and Cosmetic Act due to the intended use in the cure, mitigation, treatment, or prevention of disease. The letters go on to itemize examples of the claims on the company's website, product label, social media and other media that provide evidence the products are intended for use as drugs.
It is a violation of federal law to market and sell products that claim to prevent, diagnose, treat, mitigate or cure diseases without first demonstrating to the FDA that they are safe and effective for their labeled uses.
Among the 65 products the FDA cited are claims for a tea with "cancer killing properties"; a vitamin that can "stop cancer cells from multiplying, kill cancer cells, and block their blood supply"; and drugs that are a "chemopreventive agent due to their ability to modulate underlying mechanisms involved in carcinogenesis."
"Consumers should not use these or similar unproven products because they may be unsafe and could prevent a person from seeking an appropriate and potentially life-saving cancer diagnosis or treatment," said Douglas W. Stearn, director of the Office of Enforcement and Import Operations in the FDA's Office of Regulatory Affairs, in the April 25 press release announcing the warnings.
Although there are the rare cases of individuals who have survived mesothelioma through holistic care, the saying "it takes a village" is applicable to the fight against mesothelioma. A mesothelioma care team may include the family physician, a medical oncologist, pulmonologist, surgeon, radiologist, nurses, pathologists, nutritionists, rehab therapists and social workers.
Mesothelioma is caused by the inhalation or ingestion of airborne asbestos fibers. In the case of pleural mesothelioma, the fibers lodge deep in tissue surrounding the lungs, causing inflammation that festers for years. Chronic, persistent inflammation is a known cause of cancer, and in the case of mesothelioma, can take decades to develop into a malignancy. Mesothelioma is deemed an incurable cancer, with an estimated survival of less than 18 months after diagnosis.
Many mesothelioma patients turn to holistic treatments as complementary treatments to help relieve symptoms and to ease stress, but anytime a company makes a claim that its product can cure cancer, you can be sure the claim is fraudulent.
"We encourage people to remain vigilant whether online or in a store, and avoid purchasing products marketed to treat cancer without any proof they will work," said Stearn. "Patients should consult a health care professional about proper prevention, diagnosis and treatment of cancer."
The companies have 15 days from receipt of the letter to respond to the FDA with information regarding the actions they have taken to correct the violations and to assure violations do not happen again. According to the FDA, failure to correct the violations promptly may result in legal action, including product seizure, injunction and/or criminal prosecution.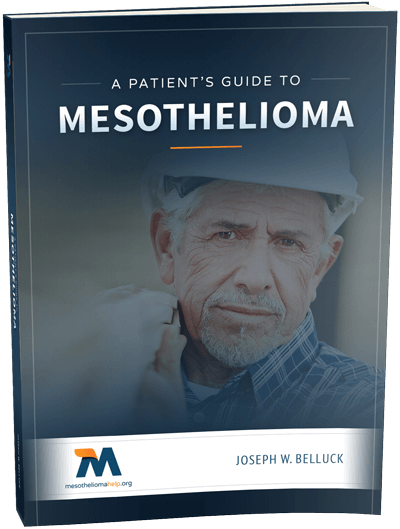 Free Mesothelioma Patient & Treatment Guide
We'd like to offer you our in-depth guide, "A Patient's Guide to Mesothelioma," absolutely free of charge.
It contains a wealth of information and resources to help you better understand the condition, choose (and afford) appropriate treatment, and exercise your legal right to compensation.
Download Now