New Leaders Committed to Seeking Cure for Mesothelioma
A woman who lost her 33-year-old son to mesothelioma and a doctor whose work led to the only chemotherapy drug approved to date to treat asbestos-related cancer will lead the national organization that provides patient support and funds peer-reviewed research on mesothelioma.
Hanne Mintz and Dr. Axel Hanauske will serve as 2011 co-chairs of the Mesothelioma Applied Research Foundation, the non-profit national organization announced. Malignant pleural mesothelioma is a cancer of the lining of the lungs caused by inhaling asbestos particles. The symptoms of the disease typically appear decades after exposure to asbestos, a mineral fiber used in building materials and insulation. About 3,000 Americans die each year of mesothelioma.
Dr. Hanauske is global brand development leader for Eli Lilly & Co., and is a professor of medicine at the Technical Institute in Munich, Germany, where his team of researchers discovered the effectiveness of chemotherapy using Alimta/Cisplatin in treating mesothelioma. Alimta, which is given in combination with Cisplatin, another cancer drug, works by blocking enzymes that are believes to spur growth of mesothelioma tumors. Alimta is distributed by Eli Lilly & Co.
Dr. Hanauske said he has seen advances in mesothelioma treatment and feels a responsibility to keep developing new treatments option until a cure is found for mesothelioma.
Hanne Mintz, whose son Adam died of mesothelioma, is owner of Paragon Language Services, Inc., a professional translation and interpreting agency in Los Angeles, CA. Ms. Mintz began seeking a cure for meosthelioma when her son was first diagnosed and has pledged to support the Meso Foundation in its efforts to advance mesothelioma research and save lives.
"It instills hope that researchers around the world are choosing to concentrate their efforts on the underfunded, under-recognized and not-so-glamorous world of mesothelioma," Ms. Mintz said in a statement. "Research holds the answers while funding is its lifeblood; this is why the Foundation relies heavily on its generous supporters to ensure that promising research is rewarded with adequate funding. I look forward to seeing the pieces of the puzzle fall into place during my tenure."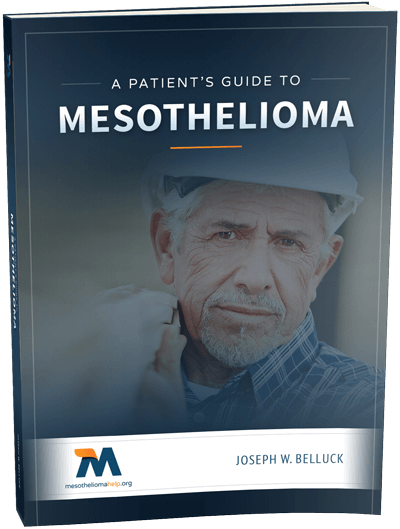 Free Mesothelioma Patient & Treatment Guide
We'd like to offer you our in-depth guide, "A Patient's Guide to Mesothelioma," absolutely free of charge.
It contains a wealth of information and resources to help you better understand the condition, choose (and afford) appropriate treatment, and exercise your legal right to compensation.
Download Now