Blocking Cell Proteins That Fuel Mesothelioma
Conventional chemotherapy, radiation treatments and surgery have shown only limited effectiveness in improving the survival of patients with mesothelioma, a malignant cancer caused by asbestos exposure. Patients typically die within a year of diagnosis because mesothelioma is notoriously resistant to chemotherapy and other treatments. A better understanding of the biology of mesothelioma, which produces tumors in the lining of the lung or abdomen, may prove helpful in identifying targets for new therapies. In a January 2011 article in the journal Neoplasia, researchers at Harvard Medical School and Brigham and Women's Hospital in Boston discuss their cancer research and efforts to "switch off" proteins that contribute to growth of malignant mesothelioma cells. The occurrence of pleural mesothelioma has increased in the United States and abroad since 1970, reflecting the heavy consumption of asbestos starting around World War II. About 3,000 people a year die of mesothelioma in the U.S. Some studies have suggested that certain cell surface proteins—known as Receptor Tyrosin Kinases—are involved in the complex transformation of normal cells into cancer cells in many types of human cancer, including apparently mesothelioma. But it's still unclear whether the cancer cell transformation depends on a single kinase protein or multiple kinases. The researchers say that blocking tyrosine kinases has proven effective for treating certain human cancers including breast cancer, gastrointestinal tumors, leukemia and non-small cell lung cancer. But therapies targeting tyrosine kinases have not produced notable successes in treating mesothelioma. The researchers cultured 10 lines of mesothelioma cells. The mesothelioma cells showed coordinated expression of elevated levels of certain receptor proteins that cause cells to divide. The elevated protein levels were not present in normal cells. The researchers then treated the mesothelioma cells with drugs that interfered with cell communication by blocking the receptor proteins. The coordinated activation of multiple receptor proteins may allow mesothelioma cells to resist chemotherapy drugs targeting single proteins. The researchers reported that the greatest reduction in the viability of the mesothelioma cells occurred when they blocked multiple types of receptor proteins rather than singling out individual proteins. They hypothesized that inhibiting heat shock protein 90, which belongs to a class of proteins called chaperones that help other growth proteins function properly, might interfere with multiple receptor proteins. HSP 90 is associated with proteins linked to growth and development. The researchers reported that the growth of mesothelioma cells was significantly reduced after HSP 90 was blocked by an inhibitor drug. The results of their research suggest that blocking heat shock protein 90 deserves further study as a new therapy for treating mesothelioma. Further study is needed to determine if the lab results can be replicated in a clinical setting.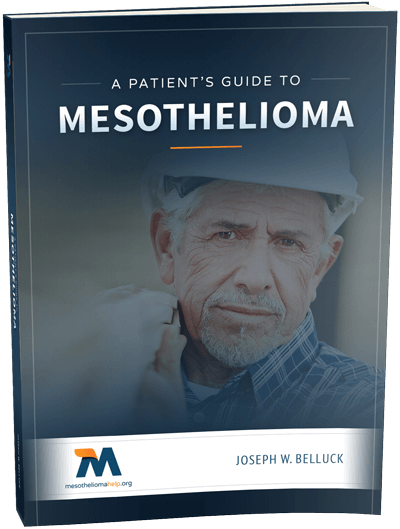 Free Mesothelioma Patient & Treatment Guide
We'd like to offer you our in-depth guide, "A Patient's Guide to Mesothelioma," absolutely free of charge.
It contains a wealth of information and resources to help you better understand the condition, choose (and afford) appropriate treatment, and exercise your legal right to compensation.
Download Now