North Carolina Running Event Benefits Cancer Center for Lung Cancer and Mesothelioma Research
Over 3,500 runners participated in the sold-out Wachovia Tar Heel 10 Miler and 4 Mile Run in Chapel Hill, NC, on Saturday April 9, 2011 to raise money for the Chapel Hill-Carrboro YMCA and the UNC Lineberger Comprehensive Cancer Center and the N.C. Cancer Hospital. The race, touted as "North Carolina's Premier Running Experience," was an opportunity to provide additional research funds to Lineberger who has a mission to "reduce cancer occurrence and death in North Carolina and across the nation." One of Lineberger's Thoracic surgeons, Richard H. Feins, M.D., has focused areas of his research on lung cancer and pleural mesothelioma.
Pleural mesothelioma is a form of lung cancer that is almost always caused by asbestos exposure and is most commonly found in the outer lining of the lungs called the mesothelium. Many patients diagnosed 30 years or more after their initial exposure to asbestos already have advanced malignant mesothelioma when they begin to suffer symptoms of shortness of breath and chest pain. At this late stage of diagnosis, the average survival time is less than a year.
UNC Lineberger physicians move beyond treating cancer patients by conducting research into the causes of cancer and searching for new treatments. In addition, many of the medical staff are faculty members at the University of North Carolina at Chapel Hill and collaborate with the state to develop and direct statewide programs in cancer prevention, as well as training future physicians, nurses, scientists and public health professionals.
The Thoracic Oncology Program, where patients can be treated for esophageal cancer, non-small cell lung cancer, small cell lung cancer, mesothelioma, pleuropulmonary blastoma, thymoma and thymic carcinoma, offers leading-edge multidisciplinary care to their patients. Each patient benefits from personalized care with a team of specialists from pulmonary medicine, surgery, medical and radiation oncology, thoracic radiology, pathology, and oncology nursing assigned to each patient.
The thoracic oncology physicians at Lineberger include Richard Feins, MD, Thomas Egan, MD, Benjamin Haithcock, MD and Nirmal K Veeramachaneni, MD. Feins who also serves as director of the cardiothoracic simulation center at UNC-Chapel Hill, is one of fifty-nine physicians at the University of North Carolina Hospitals listed in the latest version of "America's Top Doctors," by Castle Connolly Medical Ltd.
Feins has presented nationally and internationally, as well as publishing studies, on the results of his mesothelioma research. Some of his topics include, "Effects of photodynamic therapy on xenografts of human mesothelioma and rat mammarycarcinoma in nude mice," and "Role of Il-6 in growth of human malignant mesothelioma."
This is the 4th year for the road race that continues to grow. Last year's mesothelioma event made history with a sell-out  2,200 runners. This year's men's winner crossed the finish line at 52:41 with a 5:17 mile pace. The first female across the finish line clocked 1:00.06 for a 6:05 mile pace.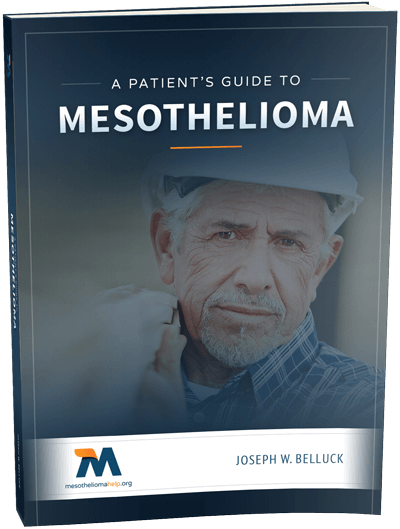 Free Mesothelioma Patient & Treatment Guide
We'd like to offer you our in-depth guide, "A Patient's Guide to Mesothelioma," absolutely free of charge.
It contains a wealth of information and resources to help you better understand the condition, choose (and afford) appropriate treatment, and exercise your legal right to compensation.
Download Now