November is National Family Caregivers Month
It cannot be emphasized enough how important a role family caregivers can play in helping others maintain their optimum health.
Being diagnosed with Malignant Mesothelioma, a rare serious cancer affects the patient as well as the family and their loved ones. As with most diseases, often there is one person that ends up being the primary caretaker. This role is often one that the person did not plan on or is prepared for. The people that are affected by this disease can be anyone. The caregiver can be a family member, a son, a daughter, a husband, a wife, a friend, a neighbor, a relative, or anyone that steps into this vital role.
There are different types of caregivers, the most common ones are someone who takes care of a family member without pay. The other types are professional, independent, private, informal, and volunteer caregivers.
Every November we recognize all the people that are filling that role with National Family Caregivers Month. In the United States, there are over 65 million Americans who care for their aging or disabled loved ones. Of this number, 90% are unpaid care providers.
One in four people at some time in their lives are caregivers to family, friends, or neighbors who have either physical or mental conditions. Of this number, nearly a third are helping someone with mental illness.Those are just the statistics. The statistics do not tell the everyday life of the caregiver. They take care of people in need every day. Often the price the caregiver pays is their own health, mental and physical, and social wellbeings. It has been well documented that often the caregivers' health suffers due to this role.
To put a face to these statistics, look around you. A few years ago while seeing a mesothelioma patient return to the clinic with his wife, I was struck by the toll that the disease had taken on his wife. The patient looked great, he was doing well and had a positive outlook. His wife, his primary caretaker, was not doing as well. She had lost weight, looked tired, and reported feeling depressed. Being the caretaker had taken a very visible toll on her.
Chances are you know someone, work with someone, or you are someone taking care of another person. Reach out to the caretaker, lend a hand, be specific, and ask if you can help at a specific hour on a specific day. If you can't physically help, listen to the caretaker. Schedule a time to talk to them regularly. The role they play is a demanding and rewarding one that we can make easier by supporting them. Make their journey less isolating in November and throughout the year.
There are resources available for support for caregivers;
www.hhs.gov Resources for Caregivers
www.Caregiving.org The National Alliance for Caregiving
www.Caregivers.org Caregiving at Home a Guide to Community Resources
www.AARP.org Resources for Caregivers and their Families
Specific for patients with Malignant Mesothelioma www.curemeso.org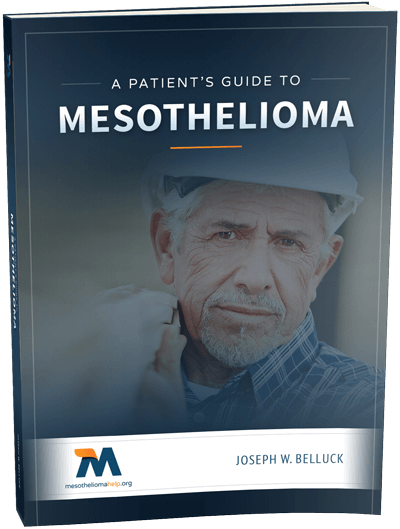 Free Mesothelioma Patient & Treatment Guide
We'd like to offer you our in-depth guide, "A Patient's Guide to Mesothelioma," absolutely free of charge.
It contains a wealth of information and resources to help you better understand the condition, choose (and afford) appropriate treatment, and exercise your legal right to compensation.
Download Now