Nurse Learns From Mesothelioma Survivors
As a nurse, I ask my mesothelioma patients many questions. The ones that pop into my mind are what was their asbestos exposure, and are they starting treatment or are they back for more treatments. If they have previously been treated and are back for a follow- up appointment, I try to find out to what they attribute their survival.
The definition of a survivor is the state or fact of continuing to exist, typically in spite of an accident, ordeal or difficult circumstances. Mesothelioma is right up there with the most difficult of circumstances. I am always fascinated by what helps keep mesothelioma patients alive and getting out of bed every day.
One woman said she simply follows the instructions of her physicians. Sometimes these are the most basic like walking, taking multivitamins, and eating a healthy diet. I sat with a patient who had mesothelioma seven years ago and she told me that she just tries to focus on the positive. She focuses on her breathing and her last scan that was negative for any recurrence. She stays in the moment and tries to improve on areas that are not as strong. She told me she goes to therapy. This women does not want to be defined by her mesothelioma, but by her actions. She is out and about on social media helping people out with their own personal journeys.
I met another patient yesterday who had an attitude of gratitude. It was really surprising, and he was so happy just to be alive. He could only say nice things about his medical team. And most of all he had plans for the future. He has a birthday coming soon and he plans to be home for that. This particular patient had many, many setbacks and has experienced all the emotions that one can endure. At one point during his hospitalization he refused to get out of bed and walk. This guy was negative early on, but today, he too is a survivor.
I am fascinated to find out what makes people survivors. There are many answers and there no wrong ones. If you have been diagnosed with mesothelioma, and you are living with this disease, guess what? -you are a survivor.
We are very interested to know what makes you a survivor. Please share with us and let us know your success story.
Feel free to contact us with your story or with any questions you may have about your mesothelioma treatment.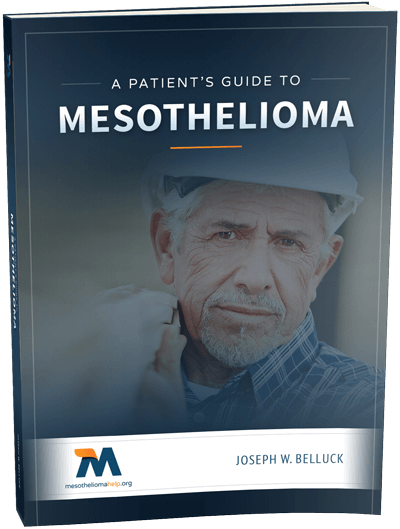 Free Mesothelioma Patient & Treatment Guide
We'd like to offer you our in-depth guide, "A Patient's Guide to Mesothelioma," absolutely free of charge.
It contains a wealth of information and resources to help you better understand the condition, choose (and afford) appropriate treatment, and exercise your legal right to compensation.
Download Now