Nurses Inspired by Mesothelioma Families' Strength, Love
Every year at the beginning of June, the International Mesothelioma  Program at Brigham and Women's Hospital holds a memorial service to honor the patients and families who have lost loved ones to mesothelioma. Every year, I leave more in awe of the all-encompassing feelings of love that transcends through the families for their lost loved ones.
The loved ones of the mesothelioma victims share their journey with the illness, and the loss of their loved one, in a way that we all relate to: a personal, intimate way. The staff that knows the patient and family during the snapshot in time they were being diagnosed and treated for mesothelioma, sees a different side of the patients. The man who loved to celebrate anything with a cake and candles, the woman who talked to strangers and befriended them, the romantic side of a man who appeared rough.
How do the families do it? Return and share their painful stories and relive a time and place that holds such painful memories? We look in awe at the survivors and secretly think – no way could I handle what they have handled with such grace and dignity.
You would think that this would be a very sad day. Although there is sadness, there is also hope. Hope that mesothelioma patients in the future can have a long life with the disease; that advances in science will lead to a cure. A realization that hope cannot be the plan, it comes with advances in diagnosis and treatment and research. Progress is being made, although it seems slow, it is in the right direction.
There is also recommitment to work harder, study harder, think outside the conventional way that we have been thinking about mesothelioma. There are now faces and families for the researchers to make that human connection, like the 70 year old man with epithelioid mesothelioma.
We empathize with the families for sharing their stories, we are touched by their generosity of spirit, we pray for them, and we thank them for coming and re-energizing us.
The survivors' lives are captured in words from a Bono song, "There is no end to grief……….and there is no end to love."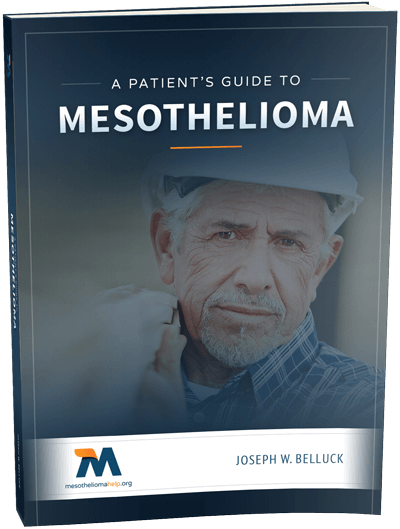 Free Mesothelioma Patient & Treatment Guide
We'd like to offer you our in-depth guide, "A Patient's Guide to Mesothelioma," absolutely free of charge.
It contains a wealth of information and resources to help you better understand the condition, choose (and afford) appropriate treatment, and exercise your legal right to compensation.
Download Now