Mesothelioma Nurse to Another: "Thanks for All Your Hard Work"
Mary Hesdorffer is the Executive Director of the Mesothelioma Applied Research Foundation, and is a tireless advocate for mesothelioma patients and their families. The mission of the Meso Foundation is to support patients and to fund research leading to a cure for mesothelioma.
Mary has been an advocate for the mesothelioma community for many years. She is passionate about her patients, and thousands have benefitted from her support and knowledge. Mary is a leader and a personal inspiration to patients, caregivers and fellow nurses. She is always available and approachable – and most importantly, she knows the answers to your mesothelioma questions (or will get it for you).
Today, while looking for the right way to spell her name, I came across an exciting new project that Mary has completed. She has written the first-ever booklet on clinical trials for mesothelioma. Clinical trials are the way that mesothelioma researchers are going to eventually be able to cure mesothelioma. In the United States, less than five percent of cancer patients participate in clinical trials.
Educating patients and their families about clinical trials is imperative to future treatment modalities, and for refining the ones that we currently have. One of the barriers to mesothelioma research has been patients and treatment centers not knowing what is available. Which studies are enrolling patients, what the criteria for the studies might be and the clinical trial phases are all key pieces of information patients and doctors need to know to find an appropriate trial. All of this information is available on www.clinicaltrials.gov, but many people are intimidated by the site or just aren't sure what to look for.
Mary has simplified the search process and made the booklet easy to understand. Hopefully, her efforts will lead to increased knowledge and participation.
Navigating the medical system when dealing with any condition can be challenging, but when you or someone you love is diagnosed with mesothelioma it can be totally overwhelming. The information that you find might not be up to date. It is important to go to a mesothelioma center and be seen by a team that specializes in mesothelioma. While doing your research look at the Mesothelioma Applied Research Foundation's website, www.curemeso.org, download the booklet, view the past conferences, and know that the organization is dedicated to support and research for a cure.
Mary Hesdorffer is a true mesothelioma hero. Thank you, Mary, for all your hard work and tireless dedication to the mesothelioma community.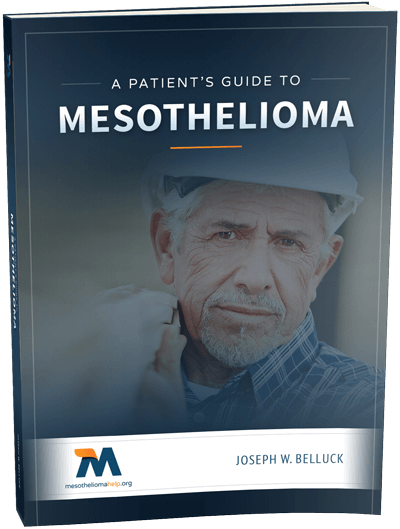 Free Mesothelioma Patient & Treatment Guide
We'd like to offer you our in-depth guide, "A Patient's Guide to Mesothelioma," absolutely free of charge.
It contains a wealth of information and resources to help you better understand the condition, choose (and afford) appropriate treatment, and exercise your legal right to compensation.
Download Now