Based on Results of Prostate Cancer Study, Specialist Centers Most Likely Offer Best Mesothelioma Care
Due to mesothelioma's relative rarity among the general population, it is recommended that patients seek out a mesothelioma specialist center. Mesothelioma specialists are aware of the latest research and they are able to develop a more informed treatment plan than would a physician who does not specialize in the disease. Researchers at one of the most prominent mesothelioma centers in the world tested this theory on prostate cancer patients and found that those treated at a high-volume radiation center see better survival rates.
Researchers at Brigham and Women's Hospital looked at records of nearly 20,000 high-risk prostate cancer patients who received radiation at over 1,000 facilities. The data showed that when treated at "higher-volume facilities," i.e., the top 20 percent by prostate radiation volume, patients consistently had better survival rates than those treated at lower-volume facilities.
"Our paper shows that experience counts," said Paul Nguyen, MD, a physician researcher in the department of Radiation Oncology at Brigham and Women's Hospital and corresponding author of the new paper, in a March 14 press release. "For men with aggressive prostate cancer, survival is improved if they receive their radiation treatments at a high volume facility as opposed to a lower volume facility."
In the case of mesothelioma care, a mesothelioma specialist will develop the treatment protocol and will supervise its implementation, while the patient still meets with his or her personal doctor. Mesothelioma has a unique set of treatment requirements and specialists serve a key role in interpreting and defining the best approach for caring for the patient.
The Medical Team
At a mesothelioma treatment center, several types of physicians can be involved in the treatment of mesothelioma. Often physicians' specialties will overlap and several doctors may be available to offer treatment and support in the same discipline.  Types of specialists that may be included on a team are:
Oncologists. Medical professional specializing in cancer.
Thoracic surgeons. Thoracic surgery is the field of medicine involved in the surgical treatment of diseases affecting the thorax or the chest including the lungs, chest wall, and diaphragm.
Pulmonologists. Physicians specializing in the treatment of diseases of the lungs and the respiratory tract.
Chemotherapy (oncology) Nurse. The RN or team of nurses responsible for patient assessment, chemotherapy administration and supportive care during the chemotherapy treatment.
Radiation Therapist. The radiation therapist develops a treatment plan in conjunction with a radiation oncologist, explains the treatment plan to the patient, and administers the radiation.
In addition to the above specialists, many other medical professionals will be supporting the patient's needs such as nutritionists, pharmacists, and the primary care physician.
"At a higher volume facility, not only will the radiation oncologist will have more experience at designing and delivering the appropriate treatment fields, but the multidisciplinary team of pathologists, radiologists, urologists, and medical oncologists will have greater expertise in making accurate diagnoses and tailoring the systemic therapy regimen to ensure the best-possible outcome for the patient," said Dr. Nguyen.
The researchers report other cancer datasets are being planned for review "to corroborate the strong effect seen here."
Brigham and Women's is home to the International Mesothelioma Program. Managing over 300 mesothelioma consultations per year, the International Mesothelioma Program is the largest program of its kind in the world. The Program has a mission "to offer state-of-the-art treatment to patients with malignant pleural mesothelioma."
Find the full study in the March 15, 2016 issue of the International Journal of Radiation Oncology, Biology, Physics.
http://www.redjournal.org/article/S0360-3016%2815%2926845-9/abstract
Sources:
International Mesothelioma Program
http://www.brighamandwomens.org/Departments_and_Services/surgery/thoracic-surgery/mesothelioma/default.aspx
(Brigham and Women's Hospital ) March 14 press release
http://www.brighamandwomens.org/about_bwh/publicaffairs/news/pressreleases/PressRelease.aspx?sub=0&PageID=2299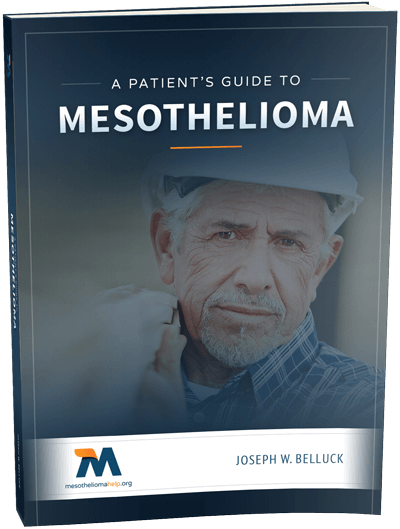 Free Mesothelioma Patient & Treatment Guide
We'd like to offer you our in-depth guide, "A Patient's Guide to Mesothelioma," absolutely free of charge.
It contains a wealth of information and resources to help you better understand the condition, choose (and afford) appropriate treatment, and exercise your legal right to compensation.
Download Now