Researchers Identify Mutations in Mesothelioma That Can Lead to Personalized Care
Biomarkers have become the de facto reference for researchers and oncologists when determining mesothelioma diagnosis, treatment, success of those treatments and prognosis. But identifying reliable biomarkers has been challenging, primarily due to the rarity of the disease. Now, researchers at one of the leading mesothelioma centers report they have identified a "spectrum of mutations" found in mesothelioma tumors.
Mesothelioma is a serious and incurable cancer that is diagnosed in just 3,000 Americans each year. The aggressive cancer, known as "asbestos cancer" since it is almost always a direct consequence of past exposure to asbestos fibers, often eludes standard cancer treatments. Through personalized, targeted therapy, with the help of biomarkers, however, patients see improved survival and a higher quality of life.
Researchers from Brigham and Women's Hospital of Boston hope to bring personalized care to many more mesothelioma patients through their recent discovery of "previously unknown genetic alterations" in mesothelioma tumors.  Some of these mutations that are prominent in other cancers, according to the researchers, have available treatments that could benefit mesothelioma patients with those same mutations.
"By studying so many samples, we've been able to describe a spectrum of mutations for this rare disease," says lead author Dr. Raphael Bueno, chief of BWH's Division of Thoracic Surgery and co-director of the hospital's Lung Center, in a Feb. 29 press release. "A small number of these mutations have been found previously in other cancers, and drugs have been developed to target these mutations."
The researchers performed a "comprehensive genomic analysis" on 216 malignant pleural mesothelioma samples, where they compared the DNA and RNA of the mesothelioma samples and normal, healthy samples. According to the press release, the team uncovered more than 2,500 alterations, and identified 10 significantly mutated genes.
Biomarkers play a critical role in improving the drug development process, according to National Institutes of Health researchers, in addition to identifying focused care. The PD-L1 biomarker has been top-of-the-news recently with the successful treatment in mesothelioma patients and melanoma patients who express the biomarker. The immunotherapy drug blocks PD-L1.
Read more about the immunotherapy drugs and mesothelioma.
"When you have a cancer that has a 80 to 90 percent mortality rate within five years of diagnosis, and you discover evidence that a small percentage of people may have actionable mutations, that means that you could reduce mortality," said Bueno.
Brigham and Women's is home to the International Mesothelioma Program. Managing over 300 mesothelioma consultations per year, the International Mesothelioma Program is the largest program of its kind in the world. The Program has a mission "to offer state-of-the-art treatment to patients with malignant pleural mesothelioma."
"We plan to continue this important research through investigator-sponsored trials evaluating the potential use of cancer immunotherapies for the treatment of mesothelioma," says Bueno.
The results of the study can be found in the Feb. 29 issue of Nature Genetics.
Know more about Mesothelioma and how you can deal with it.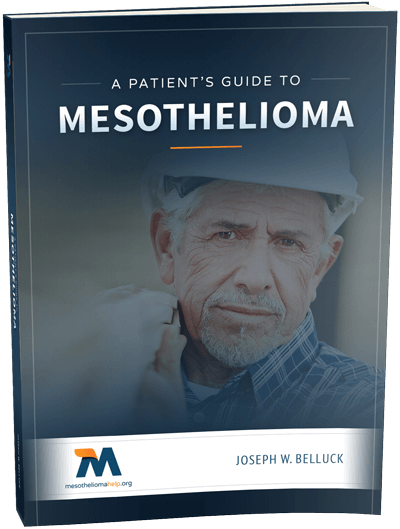 Free Mesothelioma Patient & Treatment Guide
We'd like to offer you our in-depth guide, "A Patient's Guide to Mesothelioma," absolutely free of charge.
It contains a wealth of information and resources to help you better understand the condition, choose (and afford) appropriate treatment, and exercise your legal right to compensation.
Download Now