Sleeping Pill May Be "Potent" Agent in Fight Against Malignant Mesothelioma
Mesothelioma is one of nearly 7,000 diseases that is designated as an 'orphan' disease. The distinction is given to a disease or disorder that affects fewer than 200,000 Americans at any given time. Currently, rare diseases affect over 30 million Americans. Mesothelioma is diagnosed in just 3,000 Americans each year, with just as many dying from the disease.
According to government statistics, between 85 and 90 percent of orphan diseases are serious or life-threatening, yet only about 200 of them currently have any effective treatments. Now, according to a recent study, a treatment for one disorder may be beneficial in fighting mesothelioma and other cancers.
Researchers at the Fred Hutchison Cancer Research Center in Seattle report that a drug that is used to treat sleep disorders "appears to be a potent inhibitor of cancer cells" and could lead to the "development of safer, more-effective cancer therapies."
The researchers, led by Carla Grandori, M.D., Ph.D., an investigator in the Hutchinson Center's Human Biology Division, used advanced genetic research techniques which allowed them to find the "Achilles heel" in the oncogene known as "Myc," which is hyperactive in many cancers, including lung and liver. Myc is considered untreatable due to its resistance to cancer drugs.
"Their [Myc-driven cells] rapid growth and division damages their DNA, and they rely on other genes to repair that damage.  Disabling those genes can cripple the cancer's ability to grow," said Grandori.
Further research found nearly 100 genes that could be disabled, or blocked, and would lead to the death of the Myc-driven cancer cells. Normal cells were not affected leading Grandori and the team to conclude that "each of these genes is a potential target for a new, nontoxic cancer therapy."
The sleeping pill was found when the team conducted a web search for a compound that inhibited the CSNK1 epsilon gene that was found to kill cancer cells while sparing healthy tissue when blocked. When Myc-driven cancerous mice were injected with the sleeping pill compound the mice "thrived" and the tumors shrunk away.
Grandori said the compound was "just sitting on the shelf. It is possible that the next great breakthrough in cancer therapy is already out there, sitting on a shelf, hiding in plain view."
Grandori believes there are countless more potential cancer-fighting agents, or treatments for other diseases and disorders available. The use of the sophisticated genetic research techniques, like the ones her team employed, Grandori said, "could speed up the development of new cancer therapies a thousand-fold."
Mesothelioma is an aggressive cancer, caused by exposure to airborne asbestos fibers, that is very challenging to treat. The cancer has a complex growth pattern often ruling out surgery and radiation therapy since pinpointing the malignant cells is difficult. In addition, the disease is chemo-resistant, leading physicians to prescribe chemotherapy as palliative care as opposed to curative. A drug that can halt growth of mesothelioma cells would be a major breakthrough in the treatment of mesothelioma patients.
The findings are published in the May 21 issue of the Proceedings of the National Academy of Sciences.
Know more about mesothelioma and how we can help.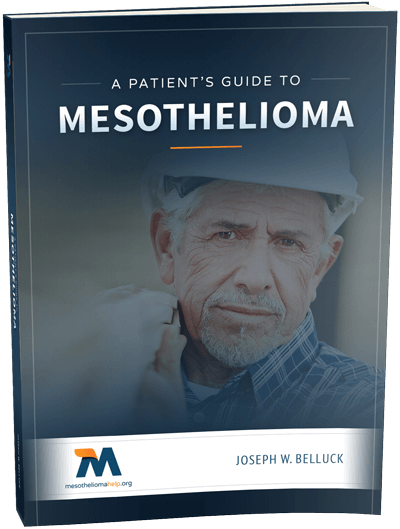 Free Mesothelioma Patient & Treatment Guide
We'd like to offer you our in-depth guide, "A Patient's Guide to Mesothelioma," absolutely free of charge.
It contains a wealth of information and resources to help you better understand the condition, choose (and afford) appropriate treatment, and exercise your legal right to compensation.
Download Now