Memorial Day is Time to Honor America's Veterans
The long Memorial Day weekend is one of the most popular holiday weekends in the United States. Celebrating the start of summer, many families head to the beach or to the shopping malls for special bargains. However, it is important that Americans not forget the meaning of Memorial Day and take the time to honor our fallen soldiers, whether it was on the battlefield or long after from injuries or illnesses, such as mesothelioma, suffered from their service.
MemorialDay.org reminds U.S. citizens: "On Memorial Day we need to stop and pay with sincere conviction our respects for those who died protecting and preserving the freedoms we enjoy, for we owe those honored dead more than we can ever repay."
Mesothelioma is a rare cancer, affecting the lining of the lungs, caused by exposure to asbestos. Although nearly 3,000 new cases are reported annually in the U.S., statistics show that military veterans account for over one-third of those cases. Unfortunately, mesothelioma is extremely difficult to treat and is virtually impossible to cure.
Between the 1940s and 1970s asbestos was popular with the military. During that time asbestos was used for insulation in both military buildings, including mess halls and barracks, and ships. It was also used as an insulator around hot water heaters and cooling systems, and in the gaskets placed inside airplane engines and large machinery.
The New York mesothelioma law firm of Belluck & Fox, LLP has seen the devastation a diagnosis of mesothelioma can cause to veterans and their families, and they are committed to helping these families get compensation for their disease. In August 2011, Belluck & Fox, LLP represented a Navy veteran diagnosed with mesothelioma from exposure to asbestos aboard ships. The firm won the man a $32 million verdict, which ranked among the five largest New York verdicts of 2011.
Mesothelioma has a long incubation period, so now, veteran's over the age of 60 are beginning to show symptoms.  Contracting mesothelioma is a life-time risk for some of our veterans, and Memorial Day is just one day when Americans can take the time to thank veterans for all they endured for our freedom.
Following is an excerpt from President Barack Obama's 2012 Memorial Day address:
"No words can ever bring back a loved one who has been lost. No ceremony can do justice to their memory. No honor will ever fill their absence.

But on Memorial Day, we come together as Americans to let these families and veterans know that they are not alone. We give thanks for those who sacrificed everything so that we could be free. And we commit ourselves to upholding the ideals for which so many patriots have fought and died."
Thank you to all who have bravely served our country!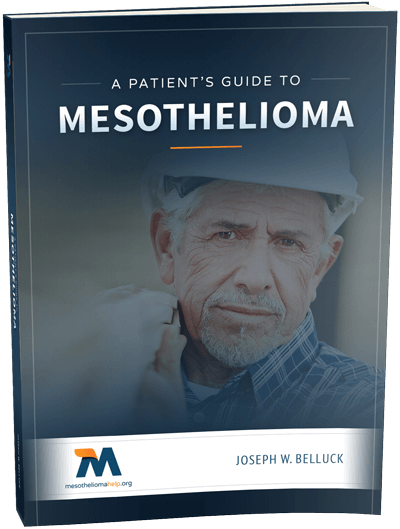 Free Mesothelioma Patient & Treatment Guide
We'd like to offer you our in-depth guide, "A Patient's Guide to Mesothelioma," absolutely free of charge.
It contains a wealth of information and resources to help you better understand the condition, choose (and afford) appropriate treatment, and exercise your legal right to compensation.
Download Now