Category:
Veterans
A member of the Mesothelioma Applied Research Foundation's Science Advisory Board and oncologist at Memorial Sloan Kettering Cancer Center has received a grant from the Department of Defense to help further her mesothelioma research.
Dr. Marjorie G. Zauderer is a medical oncologist specializing in lung cancer and mesothelioma. As the recipient of the DOD's Career Development Award, she will be provided funding for her research into the role of the BAP1 gene in mesothelioma. Previous research has shown that mutations in BAP1 predisposes people to mesothelioma.
"A better understanding of this gene could mean a better understanding of mesothelioma and how it develops in patients," said Zauderer in a press release.
http://www.prweb.com/recentnews/
BAP1 was first linked to mesothelioma through research done by Drs. Joseph R. Testa of the Fox Chase Cancer Center in Philadelphia and Michele Carbone of the University of Hawaii. A 2011 study led by Testa and Carbone and published in the journal Nature followed two families that carried inherited BAP1 mutations and had multiple mesothelioma cases. Family members also developed cancers of the eye, skin, breast, ovaries and kidneys, suggesting that BAP1 mutations underlie multiple cancer types.
More recently, Testa and colleagues found that mice with BAP1 mutations were predisposed to mesothelioma. Their results, published in Cancer Research, also showed that exposure to asbestos—currently the only known cause of mesothelioma—is a more important mesothelioma risk factor than genetics, as mice without BAP1 mutations still developed tumors.
Zauderer has been looking at the role of BAP1 in mesothelioma patients for three years. The DOD grant will provide her project funding for three more years. Her current work is focused on gathering a sufficiently large collection of genetic samples from people with BAP1 abnormalities in order to conduct a detailed analysis. She hopes to have a drug that is ready to begin or has already completed phase 1 clinical testing in the next 3 to 5 years.
The DOD is interested in mesothelioma research because the disease disproportionately afflicts people who served in the Navy or worked in shipyards. Comprising just 8 percent of the U.S. population, veterans represent around 30 percent of all mesothelioma deaths that have occurred in this country.
Mesothelioma typically develops 15 to 40 years or more following initial exposure to asbestos. The Navy and other branches of the military for decades specified asbestos for a wide range of products, including boilers, turbines, pipes, valves, electrical components, and much more. Even veterans who did not directly handle asbestos-containing products are at risk of developing mesothelioma via secondhand exposure.
If you or a loved one served in the Navy and has been diagnosed with mesothelioma, please contact Belluck & Fox, LLP to learn how we can help you.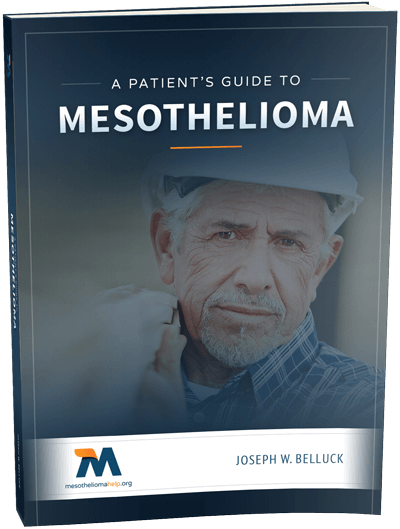 Free Mesothelioma Patient & Treatment Guide
We'd like to offer you our in-depth guide, "A Patient's Guide to Mesothelioma," absolutely free of charge.
It contains a wealth of information and resources to help you better understand the condition, choose (and afford) appropriate treatment, and exercise your legal right to compensation.
Download Now