Special Counsel Blasts VA Over Whistleblower Treatment
Many of the recent stories about Department of Veteran Affairs mistreatment of veterans have come to light thanks to whistleblowers who revealed VA practices such as the scandal over dangerous delays in patient care. In response to the scandal, legislation was passed that made it easier to fire underperforming VA administrators. But in a letter  (https://archive.azcentral.com/persistent/icimages/politics/0918-letter-to-obama.pdf) to President Obama from the U.S. Office on Special Counsel (OSC), OSC points out instances of the VA punishing whistleblowers while failing to discipline VA leadership.
The September 17th OSC letter begins by describing the treatment of Dr. Katherine Mitchell, a VA doctor in Phoenix who revealed that none of the emergency department (ED) nurses at the Carl T. Hayden VA Medical Center had received nationally-recognized, comprehensive triage training and that only 11 of 31 ED nurses had received any triage training whatsoever. Mitchell tied this lack of training to more than 100 specific instances where improper nurse training led to "dangerous delays in care"—an assertion substantiated by the VA's Office of the Medical Inspector, which found that lapses in ED triage "constitute a significant risk to public health and safety."
Mitchell, though, rather than being supported by senior VA staff, was "investigated, transferred, and harassed," reports AZCentral (https://www.azcentral.com/story/news/arizona/investigations/2015/09/17/va-failure-protect-whistleblowers-draws-strong-rebuke-special-counsel/72362888/), while staff leaders went undisciplined.
"I am concerned by the VA's decision to take no disciplinary action against responsible officials," writes the OSC. "The lack of accountability for Haden VAMC leaders sends the wrong message to the veterans served by this facility."
Such lack of action, asserts the OSC, may discourage whistleblowers from coming forward in the future. It also, says OSC, stands in stark contrast to the treatment of VA whistleblowers who "The VA has attempted to fire or suspend for minor indiscretions," a trend that, "chills other employees from stepping forward to report concerns."
OSC goes on to describe in its letter to the President other instances of VA misconduct that resulted in no significant leadership discipline, including:
Falsification of veteran counseling session records by the manager of a VA clinic in Washington State
Improper monitoring of an OMI investigation of patient care problems by a manager at a West Virginia VAMC
Inaccurate recording of patient information by a Montgomery, Alabama VA physician
OSC compares these cases with several instances of whistleblowers being fired for minor infractions that include eating expired sandwiches.
The VA Access, Choice, and Accountability Act of 2014—passed in response to the scandal that broke last summer over the patient wait-time crisis at more than 100 VA hospitals—made it easier for the VA to fire or demote senior VA employees. It was revealed this spring, however, that just one person was had been fired in connection with the scandal.
More recently, the Veterans Accountability Act of 2015, which supporters say gives greater protection to whistleblowers, passed the House and is currently being debated in the senate. The Act includes disciplinary provisions for mangers who retaliate against employees, according to an opinion piece published in The Hill (http://thehill.com/policy/energy-environment/235504-boxer-introduces-her-own-chemical-reform-legislation).
Maintenance Worker Blows Whistle on Asbestos Exposure
An earlier letter issued by OSC to the President details how a maintenance worker at a San Antonio VAMC blew the whistle on unsafe asbestos work that exposed him and others to the carcinogenic mineral fiber.
As the letter details, the San Antonio VAMC management "violated procedures governing the safe handling of asbestos-containing materials and failed to provide medical surveillance for employees exposed to asbestos, endangering their health in safety." Management, for example, knowingly ordered employees to perform maintenance work on asbestos materials without providing appropriate precautions or safety equipment.
Radiographic examination of the whistleblower has revealed chest abnormalities consistent with exposure to asbestos, which can causemesothelioma and lung cancer.
Belluck & Fox, LLP Helps Veterans
The New York law firm of Belluck & Fox, LLP represents victims of asbestos disease who served in the U.S. Navy. We've recovered tens of millions of dollars for veterans and their families. We also assist veterans with VA compensation claims.
Learn more about how Belluck & Fox, LLP helps veterans during a free case review with one of our nationally-recognized attorneys.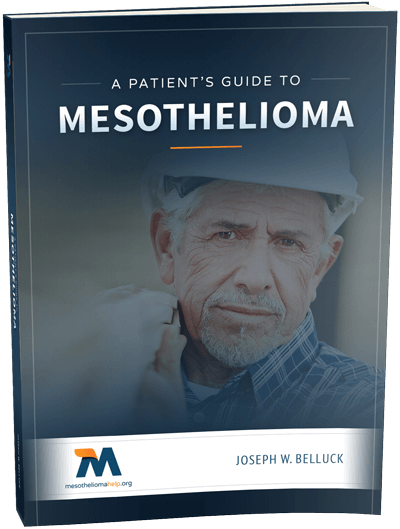 Free Mesothelioma Patient & Treatment Guide
We'd like to offer you our in-depth guide, "A Patient's Guide to Mesothelioma," absolutely free of charge.
It contains a wealth of information and resources to help you better understand the condition, choose (and afford) appropriate treatment, and exercise your legal right to compensation.
Download Now