Paddling the Hudson River to Raise Awareness and Funds for Mesothelioma
Attorney Joseph W. Belluck of the New York law firm of Belluck & Fox, and his son, William, took to the Hudson River and kayaked in the Kayaking4Meso event, held September 12 in Stillwater, NY. The event, in its fifth year, is held to raise awareness, and funds, in the fight against mesothelioma, an aggressive cancer caused by asbestos exposure. Belluck & Fox, LLP has sponsored the event, planned in conjunction with National Mesothelioma Awareness Day held Sept. 26, every year.
"Belluck & Fox, LLP has been a sponsor of the event since its inception and we are proud to be able to help raise money for mesothelioma research," said Belluck. "There are several other law firms who sponsor the event but we are the only firm that also shows up to kayak."
The event grew out of a father's love of his daughter who was diagnosed with peritoneal mesothelioma as a teenager and was given just twelve months to live. Mark Wells, whose daughter, Linda, was diagnosed with peritoneal mesothelioma at age 16, organizes the annual Kayaking4Meso event to raise awareness and Money for Mesothelioma Research.
"Linda is my inspiration for doing what I do," said Wells in an email to Mesothelioma Help. "Realizing there was no cure, I figured the next best thing to do was to raise awareness and money for research."
Expert Insight
Mark Wells, Kayaking4Meso Organizer
"Don't ever give up hope. Research is going on every day and new trials are available often. I will continue to raise awareness and money for research."
Peritoneal mesothelioma is a form of cancer that is almost always caused by asbestos exposure and affects the lining of the abdomen. While there are close to 3,000 cases of all forms of mesothelioma diagnosed in the U.S. each year, less than 10% of those are peritoneal. The cancer, which is often associated with former industrial workers who were exposed to asbestos decades ago, is virtually unheard of among young adults.
Linda is the youngest person Wells knows who has been diagnosed with mesothelioma. She has battled the disease for "almost half her life and is now one of the longest survivors I know," said Wells. Linda has lived with the disease for 13 years.
"She is doing as well as can be expected for what she's been thru," Wells added.
Raising Money to Find a Mesothelioma Cure
In 2011, Mark Wells and two friends paddled from Schuylerville to Mechanicville. The trio kayaked about 16 miles through locks 4 and 3. Five years later, over 150 boaters lined up to kayak down the Hudson River from Admiral's Marina in Stillwater thru Mechanicville, ending at Lighthouse Park in Halfmoon. The eight mile paddle took the group thru Locks 4, 3 and 2 during the 3.5 hour excursion.
"This year was especially rewarding to see over 150 kayakers come out to attend and support our cause, including Joe Belluck himself," Wells said. "Our biggest event ever and Joe has been a part of it every year. I think his commitment to help us from the beginning inspired me into making this a successful event," said Wells. "It's made a huge difference to me and the success of our event."
Expert Insight
"This is symbolic of what makes our law firm different from the other lawyers that represent people with mesothelioma – whether it's participating in an event like this or representing one of our clients – we fully commit our time and energy."
Share on Facebook
The money raised during the event goes to the Mesothelioma Applied Research Foundation. The organization is the only non-profit organization dedicated to ending mesothelioma and the suffering caused by it, according to the Meso Foundation's website.
Wells said the Meso Foundation has helped his and many other families with knowledge and advocacy by directing them to doctors, hospitals, and clinical trials.
Wells said the events have raised more than $40,000 to date to aid in research to find a cure.
"I think the thing that impacts me most is the meso family that we have created with this event, with six meso survivors attending and over 30 family members," said Wells. "I think it means a lot to all us to get together to support each other."
Asbestos Along the Hudson River
Belluck, a mesothelioma lawyer who has been advocating for mesothelioma patients and their families for over 15 years, finds the irony in the event organized to raise money to fight an asbestos-caused disease. He fights for compensation for victims of asbestos-related diseases, he says, and the route took the paddlers through three of the Champlain Canal Locks that allowed so many of the companies that the firm's clients worked at to prosper.
"This stretch of the Hudson north of Albany is beautiful, the leaves have begun to turn and it's a gorgeous fall day," Belluck said of last Saturday's event. "But, we also paddled past some of the factories where our clients worked, and one area of the Hudson where the soil is being dredged and renewed from the toxic substances that not only injured our clients but also poisoned this beautiful river. And perhaps that is a good metaphor for why we do this work."
Mesothelioma is an asbestos-related cancer that is usually diagnosed in older men – after spending years as trade workers such as insulators, plumbers and pipefitters, electricians and sheet metal workers. With an extended incubation period, it is often not diagnosed for decades after asbestos exposure. Approximately 2,500 to 3,000 people in the United States are diagnosed with mesothelioma each year.
Sources :
Kayaking4Meso
http://www.kayaking4meso.org
Meso Foundation's website
http://www.curemeso.org/site/c.duIWJfNQKiL8G/b.8578185/k.6D0E/Meso_Foundation_Symposium.htm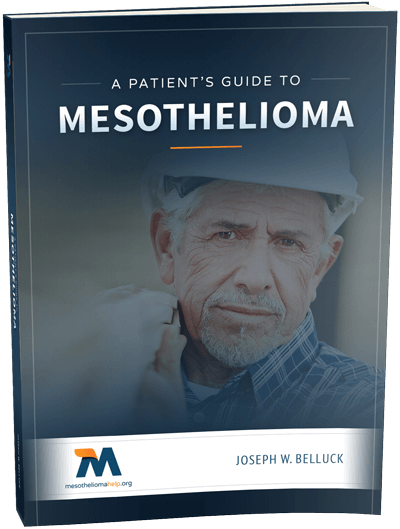 Free Mesothelioma Patient & Treatment Guide
We'd like to offer you our in-depth guide, "A Patient's Guide to Mesothelioma," absolutely free of charge.
It contains a wealth of information and resources to help you better understand the condition, choose (and afford) appropriate treatment, and exercise your legal right to compensation.
Download Now