Mesothelioma Awareness Day Draws Mesothelioma Community Closer Together
For many people, Labor Day marks the end of summer, although the official end is not until September 21st. Life returns to its hectic pace with school, work, appointments, etc. For the mesothelioma community, however, September is the month to recognize National Mesothelioma Awareness Day.  This year it is Saturday, September 26th.
This past week, I had the good fortune of meeting a patient who had been diagnosed with Stage 4 lung cancer – 9 ½ years ago. When she was diagnosed, she was told that she had six months to live. She was a non-smoker and could not understand why this was happening to her. She was in shock. She walked out of the appointment with her doctor and said that was not going to happen. She never went back to that doctor. Instead, she referred herself to a large teaching hospital that specializes in oncology.
When she told her story to her new oncologist, he pointed up to the sky to a higher power, and to her head, indicating the power of positive thinking, and said, "It is up to you – no one has a crystal ball – let's see what happens."
Her oncologist pointed her to clinical trials and offered a variety of treatments. And she has benefitted greatly from many treatments and medications that are now available as the result of  successful clinical trials. It has not been easy, complications have left her with other medical problems, she undergoes dialysis twice a week, frequent blood tests, frequent doctor's appointments. But, she has lived to witness many life events and family milestones that she never thought she would – graduations, weddings, grandchildren.
One thing that she does every year, at the request of her oncologist, is to speak to researchers- she puts a face to all their work. Her successful fight, because of their research, long ago put six months in the rear view mirror.
Although this patient has lung cancer, we have mesothelioma survivors who continue to battle the disease and are living well after their six month sentence has been in their rear view mirror. Like my recent patient, they sought out clinical trials, became involved in learning all they could about their disease, and kept living. Mesothelioma does not define them.
As I was thinking of this patient, it occurred to me that this is why Mesothelioma Awareness Day is so important. Having a community to support mesothelioma patients and family members through this journey with mesothelioma, sharing the progress being made with research, celebrating the success, and acknowledging the disappointments, sharing the stories of survival are all some of the purposes of the day.
On September 26th, remember all who continue to battle this aggressive cancer, all who have lost their battle, and their families, as we all pray for progress to a cure.
If you have any questions about any aspect of your mesothelioma care, please email me at [email protected].
Know more about Mesothelioma and how you can deal with it.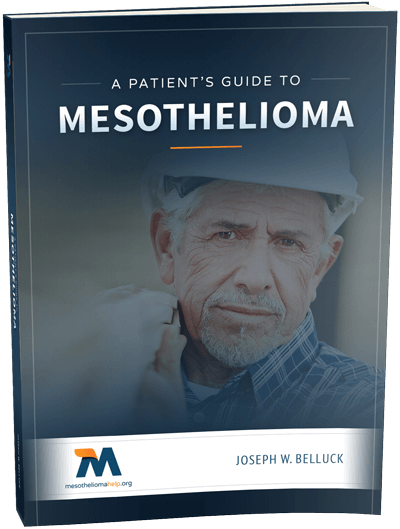 Free Mesothelioma Patient & Treatment Guide
We'd like to offer you our in-depth guide, "A Patient's Guide to Mesothelioma," absolutely free of charge.
It contains a wealth of information and resources to help you better understand the condition, choose (and afford) appropriate treatment, and exercise your legal right to compensation.
Download Now