Contact Your Congressional Representative to Encourage Implementation of Mesothelioma Registry
In August, Congressman John Katko of New York introduced a bill into Congress to create a mesothelioma registry. This is a huge step in the fight against mesothelioma; other conditions, diseases, and types of cancers have seen advances such as improved life expectancy and better treatments due to registry implementations. Registries are extremely helpful in the terms of a rare disease like mesothelioma. Oftentimes, doctors and scientists around the country are unable to complete their research due to a lack of sample size of patients. Having a large database of information readily available can help provide these numbers.
Right now, mesothelioma does not have a registry of any kind, lagging behind other diseases and conditions.
The Mary Jo Lawyer-Spano National Mesothelioma Patient Registry Act of 2015, the full text of which can be read here, seeks to:
Establish priorities for successful outcomes
Develop and revise standards of care and treatment best practices for patients with mesothelioma
Share evidence-based information between physicians across the country
Implement benchmarks to improve care in mesothelioma clinics
Identify centers that provide the most beneficial care to patients
The Mesothelioma Applied Research Foundation (Meso Foundation), the nonprofit 501(c)(3) organization dedicated to eradicating mesothelioma, has been at the forefront of this endeavor and has set-up an action alert through which anyone can contact their Congressional representative to request support of the bill.
In fact, according to the Meso Foundation, this bill came about as the result of its Advocacy Day in March of 2015, when one of its advocates, Meg Meccariello, met with her member of Congress, John Katko. Ms. Meccariello's family has been greatly affected by mesothelioma. Aside from herself being a patient, she has lost her sister, Mary Jo Lawyer-Spano, and her father Charles Lawyer, to this disease. Another sister of Ms. Meccariello's is currently also battling the disease.
The benefits of this registry would be outstanding. Please join me in contacting your  Congressional Representative and asking them to co-sponsor this bill. If they already support it, thank them and let them know that you are grateful. Let's make a difference together and continue to believe in a cure!
Go to the Action Center page at curemeso.org to send a letter. 
Know more about Mesothelioma and how you can deal with it.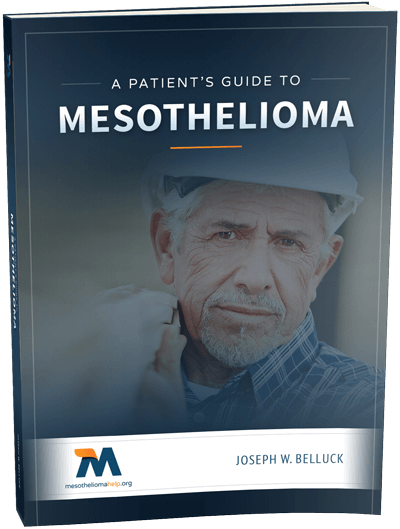 Free Mesothelioma Patient & Treatment Guide
We'd like to offer you our in-depth guide, "A Patient's Guide to Mesothelioma," absolutely free of charge.
It contains a wealth of information and resources to help you better understand the condition, choose (and afford) appropriate treatment, and exercise your legal right to compensation.
Download Now