Support Mesothelioma Caregivers During National Family Caregivers Month
It is hard to understand the challenges caregivers face every day, unless you have been a caregiver yourself. While pleural mesothelioma patients may have the spotlight turned on them this month during National Lung Cancer Awareness Month, now is also a time to shine a light on caregivers during National Family Caregivers Month.
Patients diagnosed with mesothelioma face a long, demanding battle involving countless doctors' appointments, extensive tests, chemotherapy treatments and radiation therapy. Managing the illness and all the appointments, on top of taking care of day-to-day living needs, takes the help of a dedicated caregiver. Caregivers, typically spouses or other family members, provide nearly constant care for mesothelioma patients, often while trying to care for other family members.
This year, the Caregiver Action Network (CAN) recognizes that caregiving can be a 24-hours a day/7-days a week job and has designated the theme for National Family Caregivers Month as "Caregiving Around the Clock."
According to CAN, more than 65 million family caregivers, or 29% of the U.S. population, "provide care for a chronically ill, disabled, or aged family member or friend during any given year." Although CAN notes that the average amount of care time is 20 hours per week, those hours are all day long: morning, during the workday, evening, late at night and in the middle of the night – every day.
For mesothelioma patients, the caregivers are vital for helping them follow their medical, dietary and exercise regimens. Caregivers are called upon to deal with the myriad medical appointments, medical bills, updates to other family members and friends as well as ensuring that the household runs efficiently.
President Trump declared in this year's presidential proclamation: "Caregivers must often be available around the clock, which can require them to forgo or postpone priorities for their own lives. Through sacrificial love, caregivers endure emotional, physical, and financial strain for the sake of another."
We here at MesotheliomaHelp join President Trump and all Americans in honoring "those whose extraordinary selflessness provides others with independence and comfort." We offer our appreciation to all the caregivers supporting a loved one as they fight mesothelioma.
Visit the Caregiver Action Network website for caregiving support resources and more information.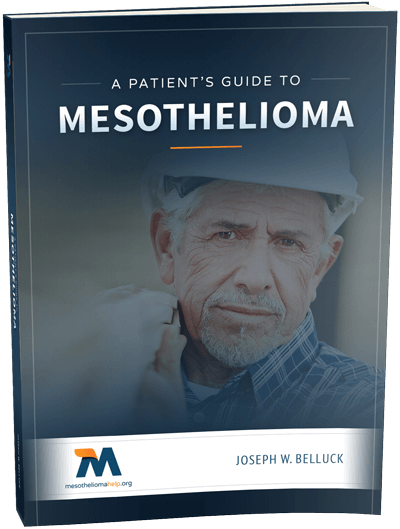 Free Mesothelioma Patient & Treatment Guide
We'd like to offer you our in-depth guide, "A Patient's Guide to Mesothelioma," absolutely free of charge.
It contains a wealth of information and resources to help you better understand the condition, choose (and afford) appropriate treatment, and exercise your legal right to compensation.
Download Now