The Uncertainties of a Mesothelioma Diagnosis
Receiving a mesothelioma diagnosis, for some patients, is like having a bomb explode in their life. It is unexpected, unwanted, and destroys the way their life had been going. It also wipes out any future plans they may have had.
Recently, this point was made by clear to me by a couple, when the husband was diagnosed with mesothelioma. He explained that his new world, the mesothelioma world, is like being on another planet. His sense of community is different, the language is different, terms he had never heard before are now too much a part of his vocabulary. And his friends and family cannot really help them.
As I listened to the couple talk about their experience with mesothelioma, they spoke about what their journey had been, and where they thought it might go. They were unsure of what was really in store for them. They are an open-minded couple, but the fear of the unknown makes everything hard to plan for. Not knowing what to expect, or how the man would react to treatment was overwhelming.
He was considering participating in a clinical trial, but their list of questions was growing. What does that clinical trial involve? Will insurance pay for it? How much travel would be required? What are the unforeseen expenses? And most importantly, what will it do to him physically?
Some of these questions can be easily answered. The questions regarding the specifics of the clinical trial, like expenses and travel, can be easily answered by the team conducting the trial. But how his journey would go, how he would react to treatment are questions no one can answer for them.
Emotionally it's hard to keep up a positive attitude and mental fight when there are so many uncertainties. As the two sit and wait, we concentrate on those things that are in their control. For example, nutrition.
They can work hard to increase their focus on eating good, solid food to maintain the man's weight. Another area that they could work on is exercise. Walking and moving around is a great tool for keeping up energy levels during treatments. Sleep hygiene was another area that he can focus on. They can also look into some mind-body exercises such as meditation, and alternative medicine like acupuncture or Reiki.  When things seem out of control it can be encouraging to spend time exploring those options that can be controlled, if just a little.
Every journey begins with one step. It is hard to be on the mesothelioma journey, but it is important to work through the experience, and to reach out to friends and family and your medical team to find the support to help manage the experience.
If you have any questions regarding any aspect of your mesothelioma treatment, feel free to email me at [email protected].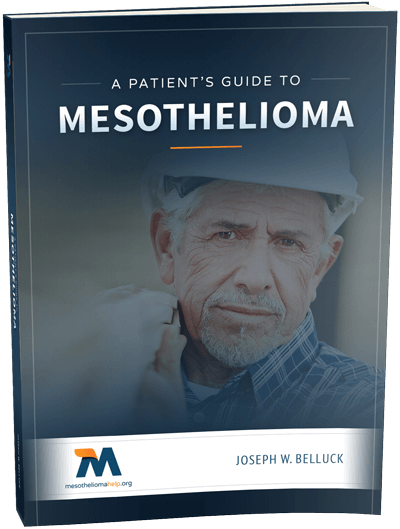 Free Mesothelioma Patient & Treatment Guide
We'd like to offer you our in-depth guide, "A Patient's Guide to Mesothelioma," absolutely free of charge.
It contains a wealth of information and resources to help you better understand the condition, choose (and afford) appropriate treatment, and exercise your legal right to compensation.
Download Now