Thoracic Nurse to Provide Mesothelioma Information to Readers of MesotheliomaHelp
Lisa Hyde-Barrett has been a thoracic surgery nurse for nearly 25 years, and has had the privilege of caring for countless mesothelioma patients over the years. Lisa has worked alongside some of the leading authorities on treating mesothelioma at Brigham and Women's Hospital through the International Mesothelioma Program (IMP).
Lisa is also a wellness advocate and she understands the relationship between awareness and cancer prevention and spends much of her time educating patients and their families about the importance of living a healthy lifestyle. She also knows that mesothelioma is one disease that can only be prevented through avoidance of asbestos, and once it develops it is challenging to treat.
Lisa feels very passionate about focusing her career on caring for mesothelioma patients and helping them deal with the disease.  "I think that these people are the bravest people I have ever met," says Lisa.
She adds that many of the patients that are treated at the IMP come such long distances, some coming from as far away as Europe and Asia, and they have no idea how their fortune is going to turn out.  "These people have been given the worst of the worst news, yet still they find hope and courage," said Lisa.
Lisa also works with Nursing Liaisons. Nursing Liaisons was founded on the premise that highly skilled and educated thoracic nurses recognize the need for a precise "aftercare" program. The nurses not only offer medical care to patients, but they also help to educate patients synchronizing their diagnosis with each unique, individual journey of mesothelioma. The nurses hope to educate patients transitioning to a more meaningful understanding of treatment and prognosis.
Lisa has been called upon to share her knowledge of mesothelioma at various conferences and educational seminars. In September, she co-presented a session at the 11th International Conference of the International Mesothelioma Interest Group entitled, "The Complex Discharge Needs of the Mesothelioma Patient." She and her colleagues discussed the potential barriers mesothelioma patients and their families may encounter that could impede learning how to care for the patient and how nurses can offer support to help overcome those obstacles.
She is certified in Guided Care which was presented from Johns Hopkins Hospital. Also, Lisa recently has been certified in Reiki, a Japanese "laying on hands" technique for stress reduction and relaxation that promotes healing.
"I continue to meet people fighting this disease, and I am always asking how I can make a difference and help them through this journey," says Lisa.
Please join us in welcoming Lisa to MesotheliomaHelp where she will offer articles focused on the needs of mesothelioma patients.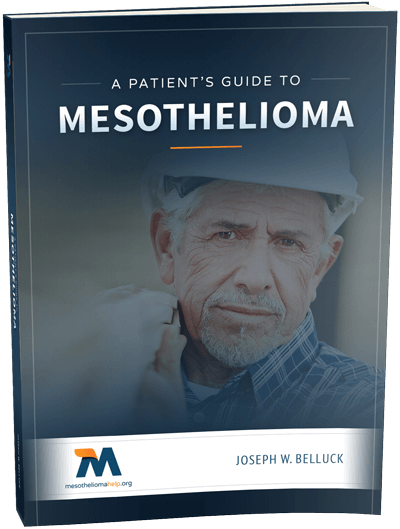 Free Mesothelioma Patient & Treatment Guide
We'd like to offer you our in-depth guide, "A Patient's Guide to Mesothelioma," absolutely free of charge.
It contains a wealth of information and resources to help you better understand the condition, choose (and afford) appropriate treatment, and exercise your legal right to compensation.
Download Now