Who can I get to help me after my mesothelioma surgery?
Recovering from surgery is difficult and challenging, but it is vital that you take it easy, listen to your doctor's orders and not overdo it as your body heals.
Your recovery path will be as individual as your treatment plan. Some patients might stay in the hospital 2-3 days, others for 2-3 weeks. Some might require a stay in a rehabilitation facility to help recover their strength after surgery, while others can recover post-surgery at home with limited help from a caregiver.
Transcript
I don't have any family members or friends who ar capable of taking care of me after my Mesothelioma surgery. My spouse is ill as well. I've heard I will only stay in the hospital a couple of days before going home. If I go ahead with the surgery, how can I get the proper care I need to heal properly? Would I be able to get into some kind of a rehab facility for post surgical care? Unless there is an acceptable alternative, I will not be able to have the surgery.
I think there is alternatives and I think we can ... After ... Usually after surgery and if you need more care, then you can get to a rehab facility. And a lot of times, people go to rehab facilities for a week, a couple of weeks, it depends on what they need. You know, the other thing is everybody ... The best case scenario might be that you might stay in the hospital a couple of days, but everybody is different. So some people might be in the hospital for seven days, eight days. Some people might be in the hospital for two or three weeks. And some people might be in the hospital for two or three weeks and then got to rehab. Everybody's different and there are complications that can happen in the disease course might be different than what you expect. Maybe it's not what they expected when they operated on you. You know, things happen.
So I think if I was in this situation, I would call the social worker, research what was available and the center I was going to and go with that plan. I certainly would have the surgery. I wouldn't let this stop me, because again, it's very difficult to go through any of this without at least one support person. But if you absolutely can't ... If you only have yourself, you can have people call and ... You can form your own support system, like with the social worker, different people. What do you think Lisa?
I think absolutely. I think rehab is a great place for people to go if they have minimal support; where you can physically get stronger and get back on your game. And I think too, where we live, oftentimes we have the Visiting Nurses can come into the home a few times a week, so that helps. You know, you could go from the hospital to rehab, get on your feet and still have the VNA come into your home. I don't know what your state requirements are or anything like that, but there are options out there for people; so you're not kind of left high and dry. And I certainly would research that. I wouldn't think that I wasn't going to have surgery because there was nobody 'cause there's always somebody.
Yeah.
So yeah. And if we can help further, please let us know.
Well it also brings up there are a lot of resources out there for families too and caregivers. There's a lot of ... There's Joe's House, McDonald, you know different resources. And Corporate Angels, people that will fly you to a center to get treatment. There's ... You just kind of have to reach out and the American-
American Cancer Society, there's a whole bunch of resources out there.
Yeah and a lot of them are free or with minimal cost and it would be definitely worth it ... Something like this, to get the best treatment, you should ... that should be your ... that should be the most important thing. You shouldn't let anything ... It's easy to say, but you shouldn't let anything else stand in your way, because there are resources. There are options, and there are ... There's a lot of people that want to help you out there. So I would look at resources also.
And again, with your husband being ... your husband being ill, you could also get him ... there's some ... See if you maybe could get him some respite care so you wouldn't have to worry about him while you were in the hospital. Or call someone else to help him out as you get back on your feet. Again, there are a lot of resources. There's a lot of information. There's a lot of ... It gets complicated. So feel free to call us or email, whatever, because it's just a special interest of ours and we have a lot of ... We have a lot of information, may not be presenting it well, but we have a lot of information.
And so that's the thing why this conference has kind of come to life, it's because oftentimes we see people who are just ... Their loved one had surgery and you watch the caretaker kind of fumble, or the patient fumble and we just want to help people. It's not per ... There's a lot of groups out there that help and we're trying to promote the conferences that are in your local hometown. Like I said, there are a lot of people who do such good work and that home Mesothelioma Awareness Day is coming up. SO if we can do anything to improve someone's life who's been struck by Mesothelioma, we are all for it. So we appreciate your time tonight.
Yeah. Yeah. That was ... Exactly. Exactly. Like Lisa said, there's a lot ... There's a conference next week. There's also a lot of websites out there too that are very informative. I would say the National Cancer Institute. I would say Mesothelioma Applied Research Foundation. The NCI, National Cancer Institute plus the American Cancer Society. It just goes ... There's a lot of them. They all have up to date information. So I would encourage people to look at those sites and to go from there.
And contact us if we can help you in any way.
Yeah.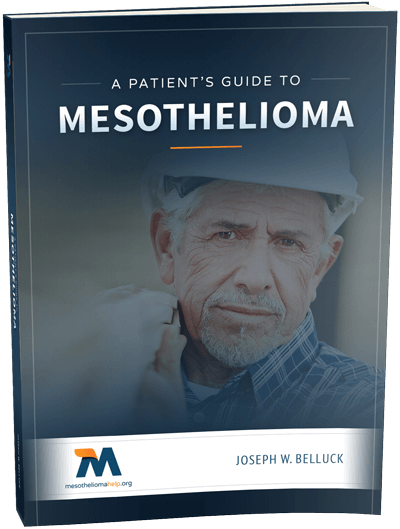 Free Mesothelioma Patient & Treatment Guide
We'd like to offer you our in-depth guide, "A Patient's Guide to Mesothelioma," absolutely free of charge.
It contains a wealth of information and resources to help you better understand the condition, choose (and afford) appropriate treatment, and exercise your legal right to compensation.
Download Now