Work at Shipyards Raises Risk of Mesothelioma
For decades, medical social worker Abby Shulman Palmer was perplexed by what caused the death of her father, a physicist who worked for many years at the Brooklyn Navy Yard. Lester Shulman died of cancer in 1985 at age 69, but doctors never pinpointed where the cancer originated.
After Palmer took a job with the Mesothelioma Alliance as a social worker advocate providing information to mesothelioma patients about treatments and clinical trials, she educated herself about asbestos and gained new insights into her father's illness.
Palmer, a native of Rockaway and graduate of Rutgers University, learned that the Brooklyn Navy Yard was a hotspot for asbestos exposure during World War II and afterward. Asbestos was widely used by the military in construction of ships because it was heat resistant, tough and inexpensive.
During World War II, Lester Shulman worked on a team that was developing degaussing procedures for U.S military ships to protect them from mines in the water. Degaussing is the process of eliminating unwanted magnetic fields. Asbestos dust was everywhere at Brooklyn Navy Yard, creating an occupational hazard to all workers. Shulman would have been regularly exposed to asbestos.
Inhaling asbestos causes serious respiratory disease including lung cancer and mesothelioma, an aggressive cancer of the lining of the lung. Navy veterans and workers in shipyards have an elevated risk of developing mesothelioma because of the prevalence of asbestos, though disease symptoms take decades to show.
"When my dad died, all we knew was it was cancer, and that it had spread, but the doctors never figured out the primary site," said Palmer, who is profiled in June issue of the Rutgers alumni magazine. "When I talked with my mother and sister about the possibility that it might be mesothelioma, they said, 'Wow, that certainly is a possibility.'"
Approximately 2,500 to 3,000 people are diagnosed with mesothelioma each year in the United States. Most are older workers, retired workers and veterans (primarily Navy veterans and yardbirds) who were exposed to asbestos in a workplace.
The symptoms of asbestos disease such as chest pain, fatigue and difficulty breathing typically take 20 years to 50 years to appear. But once the disease appears, it advances aggressively. Mesothelioma is incurable, but there are treatments to control the disease if it is diagnosed at an early stage.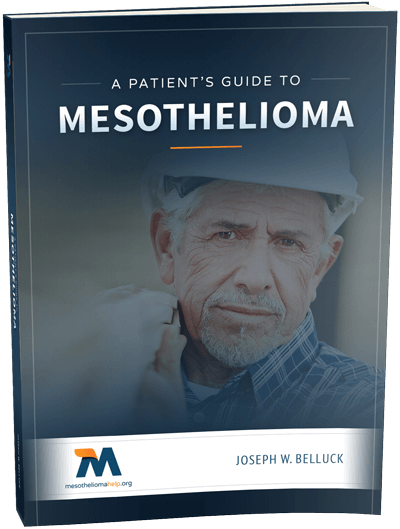 Free Mesothelioma Patient & Treatment Guide
We'd like to offer you our in-depth guide, "A Patient's Guide to Mesothelioma," absolutely free of charge.
It contains a wealth of information and resources to help you better understand the condition, choose (and afford) appropriate treatment, and exercise your legal right to compensation.
Download Now