2016 Year in Review: Top Mesothelioma Stories
2016 is coming to a close, and while another year has gone by with no cure for mesothelioma, many believe this year's research efforts brought the mesothelioma community much closer to that goal. There are treatments in clinical trials, promising leads still in the lab, and recently approved treatments now available to patients that show promise for effectively fighting the asbestos-caused cancer.
Every year Mesothelioma Help reports on the top mesothelioma stories of the year, and below we highlight some of our most important stories of 2016.
Number One MesotheliomaHelp Story of 2016
This is the third year in a row that we have selected Mavis Nye of England, who has been living with mesothelioma for over seven years, for the top spot of our news stories for the year. Mavis, who has been a staunch advocate for herself and for all mesothelioma patients, successfully completed a two-year clinical trial of the drug known as Keytruda in the U.S. And, in July, Mavis was the first person in the UK to be able to claim she is in remission from mesothelioma.
In 2014, Mavis enrolled in the MK-3475 clinical trial being run at The Royal Marsden, a world-leading cancer center in the UK. Mavis was the first mesothelioma patient in the UK to participate in the trial designed to test the efficacy of the drug, developed by Merck, in suppressing the PD-L1 biomarker found in cancer cells. PD-L1, or programmed death-ligand 1, is a protein that has been shown to play a role in suppressing the immune system during cancer and other diseases.
Patients across the U.S. are clamoring for Keytruda after 91-year-old, former president Jimmy Carter announced last year that the drug helped him beat melanoma, that had metastasized to his liver and brain.
Thank you Mavis for paving the way for other mesothelioma patients!
U.S. Government Funds Allocated for Cancer Research
The U.S. Government has continued to support research to improve and protect the health of all Americans. During the last year, our representatives and President Obama have approved significant funding to bring new, effective cancer treatments to patients more quickly.
Cancer Moonshot Initiative: In President Obama's State of the Union address in January he announced a national effort to "cure cancer" through the Cancer Moonshot Initiative. With a goal to accelerate cancer research, President Obama allocated the money and put Vice President Joe Biden at the helm. The hope is that the Moonshot will bring about the breakthroughs needed to bring an end to the needless suffering of millions of Americans – and ultimately, people worldwide. The Cancer Moonshot Task Force will consult with external experts, including the presidentially appointed National Cancer Advisory Board with a charge to provide expert advice on the vision, proposed scientific goals, and implementation of the Cancer Moonshot.
The 21st Century Cures Act: The U.S. government has allocated billions to ensure Americans have the resources necessary to target many of the top medical issues today. Nearly $5 billion has been allocated to fight cancer. This includes $1.8 billion in new resources to transform cancer research and accelerate discoveries towards the Moonshot initiative, and close to $3 billion towards the President's Precision Medicine Initiatives, among other initiatives, to improve health.
"21st Century Cures is the innovation game-changer that patients, their loved ones, and the nation's researchers and scientists so desperately need."
The 2017 Defense Appropriations Bill: Mesothelioma was first funded through the bill in 2011 and has been on the list every year since then, with mesothelioma-eligible funding once again earmarked for 2017. $30 million was allocated for distribution among eligible cancers including mesothelioma, brain cancer, colorectal cancer, listeria vaccine for cancer and many others. An additional $12 million is set aside specifically for the lung cancer research program. The bill provides a total of $282 million for cancer research.
"The Committee commends the Department of Defense for ensuring that projects funded through the various peer-reviewed cancer research programs maintain a focus on issues of significance to military populations and the warfighter." Close to 3,000 Americans are diagnosed with mesothelioma each year, with nearly one-third of those being military veterans.
Clinical Trials Underway Benefit Mesothelioma Community
ONCOS-102: Announced in November, this clinical trial is designed to assess the safety and efficacy of ONCOS-102, an immuno-oncology therapy, when administered in combination with chemotherapy drugs. The clinical trial, being conducted at the Hospital Universitario Quirón in Barcelona, Spain, begins with a Phase 1b trial of a cohort of six patients who will first receive ONCOS-102 with pemetrexed/cisplatin. The standard of care for pleural mesothelioma is the combination therapy of pemetrexed and cisplatin.
CRS-207: Aduro-Biotech, the maker of the Listeria-based vaccine that has been engineered to induce immune system T cells to target cancer cells that express mesothelin, reports continued encouraging results with the immunotherapy drug in its ongoing Phase 1b mesothelioma clinical trial. The company reports 82% of patients had disease control, with 55% achieving a partial response, and 27% with stable disease; and tumor shrinkage was observed in 77% of patients. The company hopes to advance directly to a Phase 3 clinical trial due to these encouraging results seen in mesothelioma patients.
Opdivo: Researchers from the Medical University of South Carolina have opened a Phase IB/II clinical trial with Opdivo (nivolumab), a drug that has already shown "spectacular results" for treating lung cancer patients, to assess whether a longer survival can be achieved with patients when ALT-803 is added to nivolumab. Developed by Bristol-Myers Squibb, Opdivo works by blocking the PD-L1 protein and activating the immune system, leading it to attack and kill cancer cells. ALT-803, being developed by Altor BioScience Corporation, is an immune stimulation drug. By combining these two forms of immunotherapy drugs, the researchers are hoping to deliver a one-two punch to the cancer cells.
FDA Approvals
The U.S. Food and Drug Administration has been on a roll this year in approving anti-cancer drugs. While none of the approvals are specific to mesothelioma, those approved for lung cancer care open new doors for treatment of mesothelioma patients.
In January, the FDA approved Keytruda for first-line treatment in melanoma patients, then in October, Keytruda became the only anti-PD-1 therapy approved by the FDA for first-line treatment of metastatic non-small cell lung cancer. Keytruda works by targeting the cellular pathway known as PD-1/PD-L1 (proteins found on the body's immune cells and some cancer cells). This is the same drug that gave Mavis Nye her life back.
Roche's immunotherapy drug atezolizumab, known as TECENTRIQ, was approved in October for the treatment of patients with metastatic non-small cell lung cancer whose disease progressed during or following platinum-containing chemotherapy. Compared with the chemotherapy drug docetaxel, patients in the trials saw a 4.2 and a 2.9 month improvement in overall survival, respectively.
About Mesothelioma
Mesothelioma is a deadly cancer of the lungs, heart or abdomen, caused by past exposure to asbestos. Mesothelioma has a long latency period where those exposed to asbestos may not exhibit symptoms for nearly 60 years after exposure. Mesothelioma can be treated with surgery, chemotherapy and radiation, however, the likelihood of recurrence of the cancer is high. There is no cure for mesothelioma.
Mesothelioma Help will continue to bring timely, thoroughly researched articles to our readers in 2017.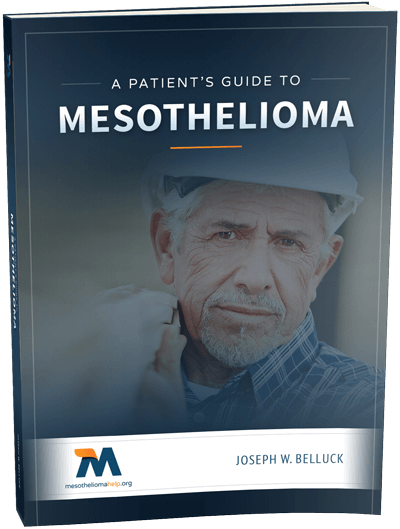 Free Mesothelioma Patient & Treatment Guide
We'd like to offer you our in-depth guide, "A Patient's Guide to Mesothelioma," absolutely free of charge.
It contains a wealth of information and resources to help you better understand the condition, choose (and afford) appropriate treatment, and exercise your legal right to compensation.
Download Now