Moving on with Life After a Year of Mesothelioma Treatment
Dad began his chemotherapy on March 19, 2012.  His treatments were alimta and cisplatin; it was four treatments, 21 days apart, ending on May 21. During this time, he also had a port installed to make things a little easier. It was a scary time, not knowing the impact the chemo would have on Dad.  Everyone is affected differently by the treatments.
Throughout the chemo, Dad continued to keep his positive attitude.  He called me after the first one, saying, "One down, three to go!" Dad was very tired during this time, certain smells made him nauseous, and his stomach was uneasy more often than not.  He just kept saying that no matter how bad it was, it could definitely have been worse.
Dad's first scan was scheduled and we were all a nervous wreck.  The oncologist treating Dad at home, came in and told them the good news, everything looked great!  We celebrated the amazing news, the continuation of our miracle, and moved on to the next step we were hoping to take:  a clinical trial.
We had been communicating with some people from the Mesothelioma Applied Research Foundation, an amazing group dedicated to finding a cure for mesothelioma, and had gotten some information about a clinical trial in NYC offered through Memorial Sloan-Kettering Cancer Center with Dr. Lee Krug.  There were strict criteria to be a part of this trial, and we were praying that Dad was a candidate.
We left for New York again on June 24 for an appointment with Dr. Krug.  We were happy to find that Dad was a great candidate for the trial and it would begin two weeks later.  The trial was a series of six vaccines that required trips to the city every two weeks.  We knew it would be a long, busy summer, but we were so excited to have another treatment option to help keep Dad cancer free.
Dad had his next scan in NYC and got more amazing results!  As a part of the trial, we will travel back every three months for two years, and every six months for a period of time after.  He has received excellent care at MSKCC as well as NYU Langone and we are so blessed to have these doctors.
The journey we have traveled has been long and arduous, but miraculous at the same time.  I hope that Dad, a walking miracle, will inspire people to turn to God and never give up hope.  There is help for mesothelioma patients and my Dad is a testimony to that and to the power of prayer.
Thank you for allowing me to share this story with you.  I have learned so much this year; never take anything for granted and always keep strong in your faith.  Please keep Dad in your prayers, and be assured of mine for you.  May you and your families have a blessed, Merry Christmas and a beautiful, healthy New Year!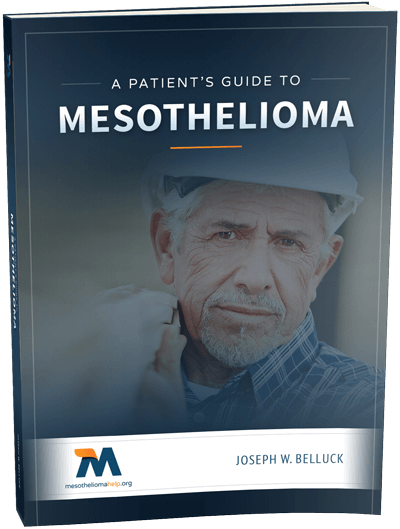 Free Mesothelioma Patient & Treatment Guide
We'd like to offer you our in-depth guide, "A Patient's Guide to Mesothelioma," absolutely free of charge.
It contains a wealth of information and resources to help you better understand the condition, choose (and afford) appropriate treatment, and exercise your legal right to compensation.
Download Now