Blood Test May Lead to Faster Time to Treatment for Mesothelioma Patients
MesotheliomaHelp has reported various times on the development of blood tests for diagnosing and assessing the progress of mesothelioma and other cancers. The tests are favored over traditional tissue biopsies due to the quick results and for being non-invasive. Now, researchers report they are developing a blood test that can identify genetic mutations in non-small cell lung cancer patients and return the results within three days.
A team of researchers from Biodesix, Inc., a U.S. company that discovers and commercializes cancer diagnostic tests, reports that through the use of Droplet Digital PCR (ddPCR), a highly sensitive gene-mutation detection method, they developed a blood-based test that can accurately identify several of the most common genetic mutations in lung cancer patients. In fact, they "generated test results successfully for 98% of tests submitted," with 94 percent of the results available within 72 hours, according to an April 5 article on the Biodesix website.
http://www.biodesix.com/utility-of-a-targeted-nsclc-genomic-test-for-cfdna-variants-in-the-community-setting/
"Time to treatment can have significant impact on progression of cancer and treatment decisions rely heavily upon genomic and proteomic testing," noted the researchers. "Results from tissue-based testing can take weeks to obtain and can delay time to treatment."
Find out about other blood test breakthroughs here and here.
http://www.asbestosdiseaseawareness.org/

Due to the aggressive nature of both lung cancer and mesothelioma, an asbestos-caused cancer, when a patient is diagnosed with either of these cancers treatment should begin as soon as possible in order to quickly fight back the disease. However, according to the Biodesix researchers, led by Gary A. Pestano, Ph.D., oncologists are often delayed in beginning a patient's therapy while awaiting results from genetic testing so they can offer personalized treatment. Test results can take weeks to be returned and by that time, oncologists and the patients may determine any generic treatment is better than a delayed, targeted therapy.
Although mesothelioma and lung cancers present with different tumor structures – mesothelioma is a spider-web-like weave of tumors on the lining of the lungs, whereas lung cancer is a single mass – the treatment protocol for the two is similar. Treating the cancer patients based on their genetic makeup, called targeted or personalized therapy, increases the chance of success. The Biodesix blood test focuses on identifying the EGFR, ALK and KRAS mutations in NSCLC patients. All three of these biomarkers have been the target of researchers hoping to develop new, more effective therapies for the cancers, and the presence of these biomarkers in a patient can point to a specific anti-cancer therapy.
In the study, the researchers analyzed over 1,600 blood samples from NSCLC patients, according to an April 19 article in Medical News Today. The results identified the mutations as follows: EGFR mutations sensitive to tyrosine kinase inhibitors in 10.5 percent of samples; 18.8 percent of samples had EGFR mutations resistant to tyrosine kinase inhibitors; KRAS gene mutations in 13.2 percent of samples; and two percent of samples with the EML4-ALK gene.
"We have developed rapid, highly robust, and sensitive blood-based assays to expedite time to treatment and expand the laboratory testing options for patients with NSCLC," the team reported.
Pleural mesothelioma is a cancer of the lining of the lungs caused by past asbestos exposure. The terminal cancer is diagnosed in close to 3,000 Americans each year.
Read the full study in the May issue of The Journal of Molecular Diagnostics.
http://jmd.amjpathol.org/article/S1525-1578(17)30094-6/fulltext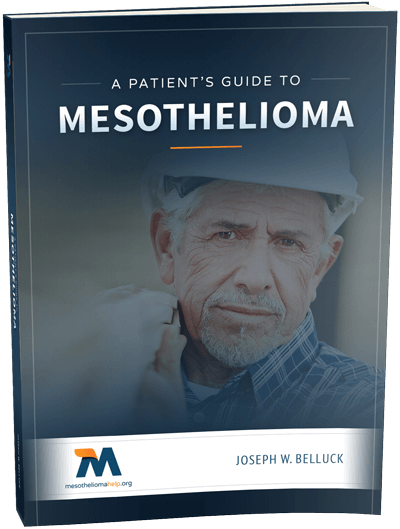 Free Mesothelioma Patient & Treatment Guide
We'd like to offer you our in-depth guide, "A Patient's Guide to Mesothelioma," absolutely free of charge.
It contains a wealth of information and resources to help you better understand the condition, choose (and afford) appropriate treatment, and exercise your legal right to compensation.
Download Now