Cancer Research Get Boost from Stand Up To Cancer Telecast
Dozens of celebrities came together on stage Sept. 9 for the fifth biennial telecast of StandUp2Cancer (SU2C (http://www.aacr.org/NEWSROOM/PAGES/NEWS-RELEASE-LISTING.ASPX)) and used their star power to raise awareness and funds towards fighting cancer. SU2C's event was focused on raising money for ground-breaking, collaborative cancer research, while educating the public about the challenges of cancer. The hour-long, commercial free show was broadcast simultaneously across Canada and the U.S. on over 60 channels including the major networks, ABC, CBS, NBC;  Fox; USA; VH1; Bravo and HBO.
Stand Up To Cancer Canada (SU2C Canada), a Canadian registered charity, is proud to announce the Hollywood community is once again joining forces to support Stand Up To Cancer's sixth biennial televised fundraising special, the third inclusive of Canada, on Friday, Sept. 7 (8:00 – 9:00 PM ET/PT / 7:00 PM CT). Mahershala Ali, Kathy Bates, Katie Couric, Jennifer Garner, Tony Hale, Marg Helgenberger, Ed Helms, Ken Jeong, Marlee Matlin, Matthew McConaughey, Maria Menounos, Jillian Michaels, Trevor Noah, Dak Prescott, Rob Riggle, Karla Souza, David Spade, Keith Urban, Reese Witherspoon and Canadian Italia Ricci will participate in this memorable event — marking 10 years since the first telecast and 10 years of SU2C's lifesaving research achievements – and four years after the launch of Stand Up To Cancer Canada. Additional stars and performers will be announced in the coming weeks.
"SU2C's mission, to ensure that all cancer patients become cancer survivors, is one that is very close to my heart," said the show's executive producer and Academy Award-nominated actor Bradley Cooper, who lost his father, Charles Cooper, to lung cancer in 2011.
This theme was evident throughout the hour as celebrities who had battled cancer and survived, including Rita Wilson and Kathy Bates, urged viewers to get screened to prevent cancer or to participate in trials if they have already been diagnosed. They also lauded SU2C's initiative to raise money critically important to fund "Dream Teams" with a goal to end cancer.
"I wouldn't be standing here tonight if it wasn't for the progress research has made in recent decades," said Bates.
SU2C Dream Teams Bring Hope to Cancer Patients
The hour-long telethon presented facts and statistics, research information, and real-life stories that remind us all that cancer is far too prevalent in the United States, but that it can be beaten. SU2C-funded researchers, primarily funded through dream teams, have planned, launched or completed more than 160 clinical trials involving more than 9,000 patients, leading to FDA approval of two treatments, according to SU2C's Sept. 1 press release (http://www.standup2cancer.org/press_release/view/more_stars_join_su2c_telecast_on_sept._9_will_rally_viewers_by_sharing_publ).
Viewers got a firsthand account from Mitch Carbon, a teen leukemia patient who was out of treatment options and had prepared himself for death until he was accepted into a clinical trial. The immunotherapy clinical trial, at the Children's Hospital of Philadelphia from the St. Baldrick's Pediatric Cancer Dream Team, gave him his life back and now he is a freshman in college hoping to enter a field where he can give back to other cancer patients.
100% of the monies raised during the telethon go directly to grants supporting cancer research. Since its first broadcast in 2008, Stand Up to Cancer has raised more than $370 million. The effort has funded 19 dream teams and six translational research teams. The SU2C dream teams "pursue the most promising research, accelerating the discovery of new therapies for cancer patients and/or advancing efforts in cancer prevention research."
New Dream Team Targets Mutation in Lung Cancer and Mesothelioma Patients
This year, a new dream team focused on KRAS-positive lung cancer, one of the most aggressive subtypes of lung cancer, is being funded through SU2C.
Following is the team's plan, according to the SU2C website:
"The team has devised a three-pronged approach to create new treatments for patients with KRAS-mutant lung cancers. First, the researchers will identify the most effective therapies for targeting KRAS and other related biological pathways. Second, they will develop approaches to exploit the immune system for the treatment of KRAS-mutant lung cancers. Third, they will integrate targeted therapies with immunotherapies as a novel combined approach to treatment of KRAS-mutant lung cancer."
Mesothelioma, a rare form of cancer caused by exposure to airborne asbestos fibers, is highly aggressive and is resistant to many current treatments. Care often follows the same protocol as lung cancer. As a result, mesothelioma patients struggling to find effective treatments for the incurable cancer stand to benefit greatly from the amazing results of the SU2C Dream Teams. Continued funding, support and collaboration of these teams bring hope to the millions of Americans who battle cancer each year, as well as the 3,000 Americans diagnosed with mesothelioma each year.
Cancer research is expensive and time-consuming, and for research related to a rare disease, such as mesothelioma, the costs can be even higher. Events such as this not only bring in much-needed funds, but they also raise awareness of the devastation cancer causes to patients and their families.
"We're at a tipping point in the fight against cancer – the science and technology is there," said Vice President Joe Biden who appeared on the stage. "We are on the cusp of ending cancer as we know it."
Visit SU2C to find out more about the initiative.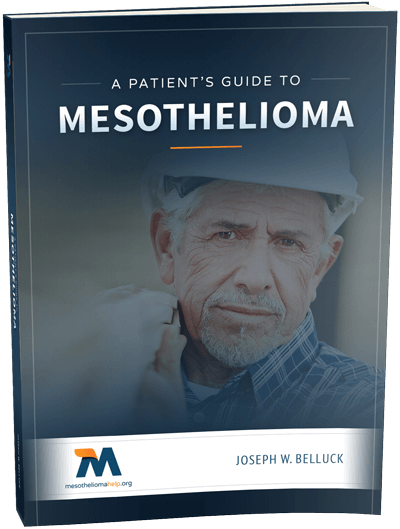 Free Mesothelioma Patient & Treatment Guide
We'd like to offer you our in-depth guide, "A Patient's Guide to Mesothelioma," absolutely free of charge.
It contains a wealth of information and resources to help you better understand the condition, choose (and afford) appropriate treatment, and exercise your legal right to compensation.
Download Now