Mesothelioma Community Celebrates FDA Approval of Keytruda for Lung Cancer Treatment
The mesothelioma community is hailing the recent U.S. Food and Drug Administration's approval of Keytruda for advanced (metastatic) non-small cell lung cancer (NSCLC). A recent U.S. clinical trial found Keytruda to be effective in controlling mesothelioma tumors in three-fourths of patients, leading researchers to say the results are "encouraging." The FDA's approval moves the drug one step closer to U.S. mesothelioma patients.
In an Oct. 2 press release, the FDA announced approval of the immunotherapy drug from Merck, previously approved for use in the treatment of melanoma, for use in the treatment of NSCLC in patients whose disease has progressed after other treatments and with tumors that express a protein called PD-L1. A companion diagnostic test will be used to detect the PD-L1 biomarker in patients.
"Today's approval of Keytruda is the result of our deep commitment to bring the benefits of immunotherapy to cancer patients," said Dr. Roger M. Perlmutter, president, Merck Research Laboratories, in Merck's Oct. 2 press release announcing the approval. "Together with scientists and physicians around the world, we endeavor to improve the lives of patients suffering from these grievous illnesses."
Keytruda works by targeting the cellular pathway known as PD-1/PD-L1 (proteins found on the body's immune cells and some cancer cells). By blocking this pathway, Keytruda may help the body's immune system fight the cancer cells.
Like lung cancer, pleural mesothelioma is an aggressive cancer that is challenging to treat. Pleural mesothelioma is an insidious cancer that lurks in the body for decades until symptoms suddenly appear leaving the patient with life-threatening complications. The asbestos-caused cancer affects the lining of the lungs and often leaves patients with less than 18 months to live after diagnosis.
According to one study from Spanish researchers, PD-L1 is expressed in approximately 20 percent of pleural mesothelioma patients. The researchers reported, "The results of our study could offer new treatment to this population of patients, identifying a subset of malignant pleural mesothelioma who expressed PD-L1 and could be treated with targeted therapies to PD-L1."
Mavis Nye, a six-year mesothelioma survivor, of England, has been a patient for over a year in a Phase I, no placebo clinical trial for Keytruda, still known as MK-3475 in the UK. Mavis says she has seen "brilliant" results with the drug. Mavis told MesotheliomaHelp that she has nearly complete tumor shrinkage, and "I'm feeling very well as my immune system has been turned back on by the drug."
Lou Williams of Australia, a 13 year mesothelioma survivor, has received eight treatments of Keytruda, and will continue on it indefinitely. She told MesotheliomaHelp, "Keytruda has given me back my life, as my body was literally shutting down. I am now once again living my life with quality, strength and determination."
Others in the mesothelioma community are hoping for the same results, and Lou and Mavis have both been tireless advocates in trying to bring the drug to others in their respective countries. While Mavis pushes for broader clinical trial participation, Lou pushes for reduced costs for the drug in her home country.
Hopefully, the time has arrived for an effective treatment for mesothelioma and lung cancer across the globe.
"Our growing understanding of underlying molecular pathways and how our immune system interacts with cancer is leading to important advances in medicine," said Richard Pazdur, M.D., director of the Office of Hematology and Oncology Products in the FDA's Center for Drug Evaluation and Research, in the FDA press release. "Today's approval of Keytruda gives physicians the ability to target specific patients who may be most likely to benefit from this drug."
Talk to your oncologist to see if Keytruda can be an effective treatment for you.
Sources:
Oct. 2 press release (FDA announced approval of the immunotherapy)
http://www.fda.gov/NewsEvents/Newsroom/PressAnnouncements/ucm465444.htm
Merck's Oct. 2 press release
http://www.mercknewsroom.com/news-release/prescription-medicine-news/fda-approves-keytruda-pembrolizumab-treatment-patients-metas
Spanish researchers
http://www.esmo.org/Conferences/Past-Conferences/ESMO-2014-Congress/Press-Media/Studies-Report-New-Findings-on-Treatment-Options-for-Mesothelioma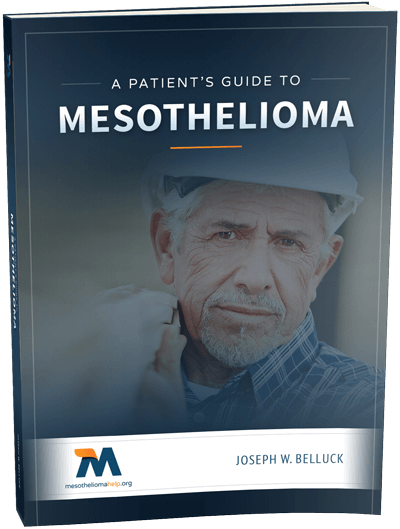 Free Mesothelioma Patient & Treatment Guide
We'd like to offer you our in-depth guide, "A Patient's Guide to Mesothelioma," absolutely free of charge.
It contains a wealth of information and resources to help you better understand the condition, choose (and afford) appropriate treatment, and exercise your legal right to compensation.
Download Now