Keytruda and Mesothelioma Explained
There is a lot of talk about Keytruda and what it can offer mesothelioma patients. Keytruda is the trade name for pembrolizumab. It is included in a new classification of drugs used to fight cancer, a monoclonal antibody that is a programmed death receptor-1 (PD-1) blocking antibody. Antibodies are part of the body's response to antigens that have entered the body. The antibody then attaches to the antigen in order to fight it off. Basically, the goal of Keytruda is to wake up the immune system and to detect and destroy cancer cells.
Pembrolizumab or Keytruda was invented by scientists Gregory Craven, Hans van Eenennaam and John Dulos. In 2016, they were recognized as Inventors of the Year by the Intellectual Property Owners Education Foundation. Merck Pharmaceuticals produces and supplies the drug.
Keytruda is currently approved for treatment of melanoma that cannot be removed by surgery or that has metastasized, non-small cell lung cancer that has metastasized or has expressed the PD-L1 protein and the disease got worse during or after treatment with platinum-based chemotherapy. In order to be approved for treatment the FDA studies the clinical trials and all the scientific evidence and will then allow approval for the drug to be used in those specific areas in which the evidence supports it. Every prescription drug marketed in the United States carries an individual FDA approved label.
See MesotheliomaHelp's latest article about Keytruda's recent accelerated approval for cancerbiomarkers.
Keytruda is administered by vein as an intravenous infusion over 30 minutes every three weeks. The dose is determined by your doctor by your weight, overall health, and for your type of cancer.
In the United States, currently, there are ten clinical trials being offered to patients with mesothelioma for Keytruda. The trials are located throughout the U.S. and are the basis of decisions on whether Keytruda is effective for patients with mesothelioma, and thus, whether it will be approved for treating mesothelioma. As the clinical trials progress it is hoped that the drug will become an option for patients who have malignant mesothelioma. It is a potential new option.
Every drug has side effects and Keytruda is no different. It is estimated that 30% of patients who receive Keytruda experience side effects.
Current mesothelioma patients should check with their doctors to see if they are eligible for a clinical trial with Keytruda. Merck is conducting over 270 clinical trials on approximately 30 different cancers.
This is a conversation worth pursuing with your mesothelioma team!
If you have questions about your mesothelioma treatment or any aspect of your mesothelioma care, please email me at [email protected].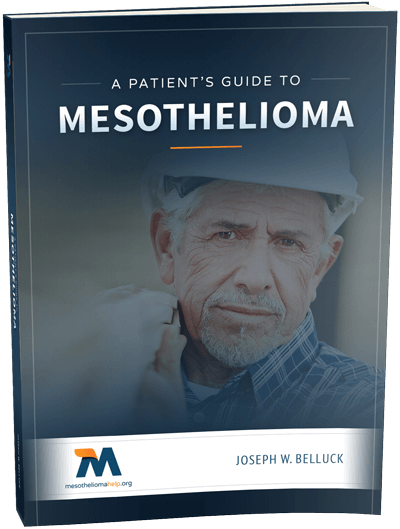 Free Mesothelioma Patient & Treatment Guide
We'd like to offer you our in-depth guide, "A Patient's Guide to Mesothelioma," absolutely free of charge.
It contains a wealth of information and resources to help you better understand the condition, choose (and afford) appropriate treatment, and exercise your legal right to compensation.
Download Now