NY Doctor Says Lingering Effects of 9/11 Terrorist Attacks May Impact Millions, Mesothelioma Cases Likely to Rise
Mesothelioma Help has reported numerous times on the long-term health effects many Americans face from the Sept. 11, 2001, terrorist attack in New York City. Now, a world renowned mesothelioma expert reports that millions may have a serious health issue as a result of the toxic dust fallout.
In a June 3 article in 9 News.com.au, Dr. Raja Flores of Mount Sinai Medical Center claims anyone who was in New York City during the collapse of the Twin Towers, and during the days following, could have been exposed to asbestos. He said NY doctors have seen more cancers and a higher number of patients with respiratory issues. Dr. Flores believes there could be a "double or tripling of the number of lung cancers in people who were in New York City on 9/11 and mesothelioma and people dying of pleural fibrosis from asbestos is."
Mesothelioma is a cancer of the lining of the lungs linked to inhaling asbestos. According to reports, about 400 tons of asbestos were used in the twin towers, and upon the collapse, asbestos and other toxic substances such as mercury and lead were released into the air. Today, close to 3,000 Americans are diagnosed with mesothelioma each year.
"It [toxic dust] contaminated a huge portion of the city and that entire population was exposed," Dr. Flores, Chief of Thoracic Surgery at the Mount Sinai Hospital, NY, told nine.com.au. "In 15-20 years we are going to see a serious health issue here in New York. We haven't even seen the tip of this iceberg yet."
Expert Insight
"The US may be a few years away from a catastrophic national health crisis."
Dr. Flores is a world renowned expert in mesothelioma, lung cancer, and esophageal cancer. He serves as Mount Sinai Cancer Center's Chairman for the Department of Thoracic Surgery. Dr. Flores conducted a landmark study in 2008, titled "Extra pleural Pneumonectomy versus Pleurectomy Decortication in the management of malignant pleural mesothelioma," that was one of the most frequently cited studies from the Journal of Thoracic and Cardiovascular Surgery.
Access to Health Care Through James Zadroga 9/11 Health and Compensation Act and WTC Program
The James Zadroga 9/11 Health and Compensation Act, passed in 2010, provides $4.3 billion  in compensation and health monitoring services to rescue workers and NY residents harmed by toxic dust and smoke from the 9/11 attacks. The Victim Compensation Fund (VCF), created under the Zadroga Act, is operated under the Department of Justice. Through this, some cancer victims can file for compensation.
The act also established the World Trade Center (WTC) Health Program. The WTC Health Program "offers annual monitoring, and treatment, including  medication, at no cost, to eligible WTC workers and volunteers, for both physical and mental health conditions related to their WTC service." It also provides health evaluations and treatment for survivors who were in the New York City disaster area.
To find out if you are eligible for support under the WTC Health Program visit http://www.cdc.gov/wtc/ or call 1-888-982-4748.
Anyone who has a WTC-related health condition, of which mesothelioma is one, the WTC Health Program's healthcare providers will provide quality medical treatment for the patient. The program reports that the basis for adding mesothelioma to the list was due to exposure to chrysotile asbestos from the buildings. The program set a minimum latency of 11 years for mesothelioma for certification in the WTC Health Program. This minimum has now been exceeded making this cancer a real concern for many.
"It's [asbestos] one of the most dangerous substances around. Every day I operate (I see) patients that have been affected by asbestos is. The safe amount of asbestos in the air for someone to inhale is zero. There's no safe amount," said Dr Flores.
According to Dr. Flores, having a low dose CAT yearly to see if you have any signs of asbestos exposure in your lungs is the best option for those present during the 9/11 tragedy.
Anyone who believes they may have been affected by the 9/11 events is encouraged to file any and all appropriate claims to ensure your health will be monitored and, in the event you become ill, you receive your share of the financial compensation set aside for victims.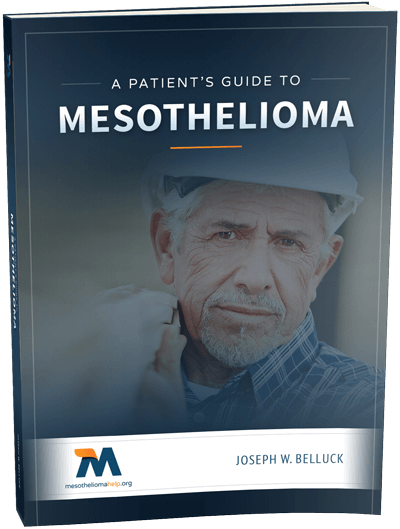 Free Mesothelioma Patient & Treatment Guide
We'd like to offer you our in-depth guide, "A Patient's Guide to Mesothelioma," absolutely free of charge.
It contains a wealth of information and resources to help you better understand the condition, choose (and afford) appropriate treatment, and exercise your legal right to compensation.
Download Now