Mesothelioma-Fighting Benefits Found in Osteoporosis Drug
In April, MesotheliomaHelp reported on the potential benefits of using a drug for the treatment of multiple sclerosis in the fight against mesothelioma. Now, researchers report a drug used in the treatment of osteoporosis may also help mesothelioma patients.
Researchers from the Comprehensive Cancer Center at the University of Alabama at Birmingham conducted a pilot study to evaluate the antitumor activity, duration of response, and progression-free survival of malignant pleural mesothelioma patients treated with zoledronic acid. Given as an intravenous infusion, zoledronic acid is used to treat osteoporosis, a condition characterized by low bone density, decreased bone strength and increased susceptibility to fractures.
The drug is also sometimes used with cancer chemotherapy treatments to treat bone problems that may occur with various cancers, including lung cancer, that have spread to the bones, according to WebMD. The drug lowers high blood calcium levels by reducing the amount of calcium released from the bones into the blood, as well as slowing the breakdown of bones by cancer, aiding in the prevention of bone fractures.
Preclinical studies showed that zoledronic acid could inhibit mesothelioma growth through apoptosis (cell death), and by inhibiting the growth of new blood vessels, as well as through other means. To assess these results, the researchers used zoledronic acid to treat eight patients with unresectable pleural mesothelioma who had progressed on prior treatments.
The team reported positive results including median progression-free survival of two months and median overall survival of seven months, with no toxicities in the patients. In addition, the team found that vascular endothelial growth factor (VEGF) amounts "were predictive of favorable response." VEGF is an autocrine growth factor released by mesothelioma cells, causing new blood vessels to form, and is shown to be higher in mesothelioma patients.
"Our pilot study suggests modest activity of zoledronic acid as a single agent in the treatment of mesothelioma and warrants further investigation in combination with other agents," the researchers concluded.
Mesothelioma is an incurable cancer that invades the lining of the organs after exposure to asbestos. The disease can take decades to develop, but once diagnosed, patients often receive a prognosis of less than 18 months. However, effective treatment can improve survival and quality of life.
Using a drug already approved by the U.S. Food and Drug Administration lessens the time and costs for approval of the same drug for other diseases.
To find out more, read the full study in Lung Cancer: Targets and Therapy.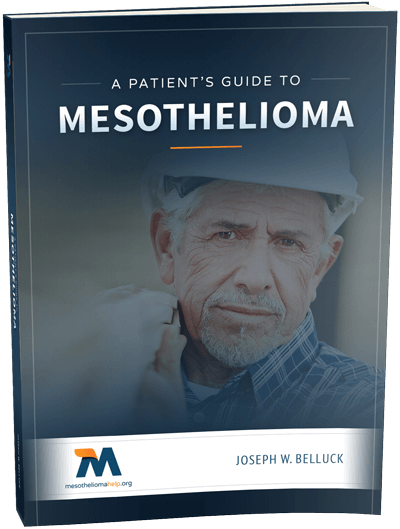 Free Mesothelioma Patient & Treatment Guide
We'd like to offer you our in-depth guide, "A Patient's Guide to Mesothelioma," absolutely free of charge.
It contains a wealth of information and resources to help you better understand the condition, choose (and afford) appropriate treatment, and exercise your legal right to compensation.
Download Now