Drug Targeting Biomarker Could Bring New, Personalized Treatment to Mesothelioma Patients
Last month, MesotheliomaHelp reported on the U.S. Food and Drug Administration's first-ever approval of an immunotherapy drug that targets a particular biomarker, regardless of cancer type. Now, researchers report they have developed another anti-cancer drug that targets just one biomarker and that it has shown "dramatic antitumor effect" across all 17 cancer types tested.
In a report presented by David Hyman, M.D., Chief of the Early Drug Development Service at Memorial Sloan Kettering Cancer Center, at the American Society of Clinical Oncology's annual meeting, researchers found that when the tropomyosin receptor kinase (TRK) biomarker was targeted by the experimental drug larotrectinib (LOXO-101) "the vast majority of both adults and children whose tumors have this [TRK] mutation" responded to the treatment.
Across three pivotal clinical trials covering 17 tumor types, larotrectinib resulted in a 76% overall response rate in 55 adult and pediatric cancer patients with the TRK mutation. According to the report, of those who responded, 89% were progression-free at the time the data were analyzed, indicating that the cancer had not gotten worse in those patients since starting treatment. These positive results "are potentially practice changing," said the researchers.
"We are seeing the true potential of precision medicine come to life," says Dr. Hyman, in a June 3 press release announcing the findings. "It's groundbreaking to have such a consistent response across multiple cancer types."
Dr. Hyman said that this is the first cancer therapy to be developed simultaneously in adults and children. He also added that in patients with a cancer carrying the TRK fusion, "it's found in every cancer cell in that patient."
Personalized medicine is considered one of the best ways to combat mesothelioma, an asbestos-caused cancer. Tailored care ensures a mesothelioma patient's unique disease characteristics, including the cancer's genetic makeup, are targeted when being treated. Research has shown that with targeted therapy success of the treatment is higher.
According to a 2014 article in ScienceDaily, the TRK gene was first identified in 1982, but researchers are only now focusing on the family of biomarkers as a target to treat cancers. The family of TRK genes, including NTRK1, NTRK2 and NTRK3, have shown up in many cancers, including lung, breast, and melanoma.
Dr. Hyman notes that the TRK fusions are rare within most individual cancers. Mesothelioma patients should work with their oncologist to determine if they are TRK positive and if there is a clinical trial that could work for them.
Both the FDA and European Medicines Agency have granted orphan drug designation for larotrectinib (LOXO-101) for treatment of patients with soft tissue sarcoma.
For more information about the LOX-101 clinical trials visit Loxo Oncology's website, or read more about the NAVIGATE clinical trial at ClinicalTrials.gov.
Sources
ClinicalTrials.gov
https://clinicaltrials.gov/ct2/results?term=%22malignant+mesothelioma%22&recr=Open&pg=1
Loxo Oncology's website
https://www.loxooncology.com/patients-caregivers/our-clinical-trials
Memorial Sloan Kettering Cancer Center
https://www.mskcc.org/blog/asco17-drug-targeting-genetic-mutation-works-across-all-tumor-types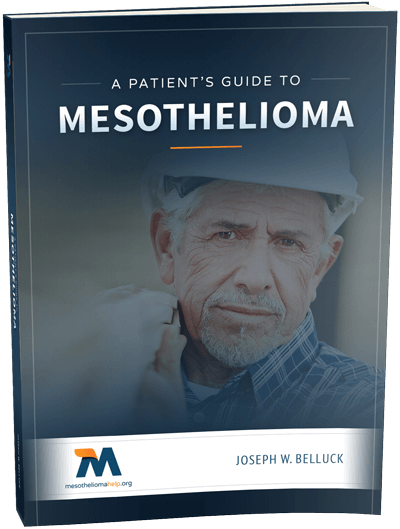 Free Mesothelioma Patient & Treatment Guide
We'd like to offer you our in-depth guide, "A Patient's Guide to Mesothelioma," absolutely free of charge.
It contains a wealth of information and resources to help you better understand the condition, choose (and afford) appropriate treatment, and exercise your legal right to compensation.
Download Now