Contest Could Bring Handheld Medical Tool to Mesothelioma Patients
One of the props used by Dr. McCoy, of the iconic 1960s television series Star Trek, was the Tricorder. With a point, swipe, and beep, the doctor could examine and diagnose the USS Enterprise's crew members. Now, thanks to a contest, this science fiction device may soon become a reality bringing "healthcare to the palm of your hand," and helping mesothelioma patients avoid some of their countless medical appointments.
The Qualcomm Foundation, along with the world's leading visionaries, hold a three-day summit each year to brainstorm ideas to help mitigate some of the challenges facing the world. The goal is to create an incentivized global competition that could lead to a solution to the problem. In 2012, the summit attendees focused on healthcare.
With all the technological advances, the team thought, it is inconceivable that an individual has to physically go to a healthcare facility, clinic, or doctor for a diagnosis of any condition. They felt this model of health care has led to bottlenecks to access of care, backlogs in laboratories, and a rise in healthcare costs. The visionaries agreed that a medical device, for consumers, could be designed to address this problem. The Qualcomm Tricorder XPRIZE competition, with a total prize package of $10 million, was conceived to spur the creation of Dr. McCoy's Tricorder.
U.S. Team Takes Top Prize
On April 12, 2017, the U.S. team, Final Frontier Medical Devices, based in Pennsylvania, was announced the winner of the nearly five-year competition netting them $2.6 million to help bring the prototype to reality. Led by two brothers, Dr. Basil Harris, an emergency medicine physician, and George Harris, a network engineer, the team created DxtER.
The second place winner, Dynamical Biomarkers Group of Taiwan, received $1 million to help bring their device to fruition.
"It is very exciting that our vision of mobile, personalized patient-centric healthcare is getting closer to becoming a reality thanks to the great work of the Qualcomm Tricorder XPRIZE teams," said Dr. Paul E. Jacobs, executive chairman of Qualcomm Incorporated, in an April 13 press release announcing the winner. "Creating technology breakthroughs in an industry as complex as healthcare is quite a milestone, and what these teams accomplished is a great stepping stone to making mobile healthcare a viable option across the world."
The field began with 312 teams from 38 countries all working to create a Tricorder prototype.  During the multi-year competition the field was narrowed to 29 teams from nine countries, and finally to two finalists from two countries. The two final teams, representing the U.S. and Taiwan, were chosen in December 2016.
Five-Pound Device Houses Complex Functionality
"Our device is smart and simple, giving people the help and answers they need when they need this input the most," said Dr. Basil Harris, founder of  Basil Leaf Technologies, in a press release announcing his team's success.
The final product had to adhere to strict requirements such as allowing an individual to determine if and what care is required without leaving home; it should weigh no more than five pounds; it must collect, store, and share vital health data via the internet; and cause no harm to the consumer either by thermal or electrical energy, needles, lancets, or infections.
Expert Insight
Dr. Basil Harris
"There is nothing like it in existence, and we believe this technology will change the face of health care."
In order to diagnose patient conditions, the device must be capable of collecting key health metrics like blood pressure, respiratory rates, and temperature over time and in various health states. The volume of data accumulated over time will allow the device to determine the consumers health conditions without expensive or invasive laboratory tests.
The winning prototype was to capture five real-time health vital signs, blood pressure, heart rate, oxygen saturation, respiratory rate, and temperature and identify 10 health conditions. The health conditions include: anemia, A-fib, COPD, diabetes, leukocytosis, pneumonia, otitis media, sleep apnea, urinary tract infection, and shingles. It must also be able to determine the absence of any condition allowing the patient to avoid unnecessary medications.
DxtER, the winning tool, is capable of diagnosing 34 health conditions.
Tricorder Benefits for Mesothelioma Patients
For mesothelioma patients and their caregivers, being able to determine, from the comfort of their home, what and if medical care is required, has significant benefits. Early detection of pneumonia, for example, can mean the difference between treatment at home and complications requiring hospitalization.
Mesothelioma, a rare cancer causally linked to asbestos exposure, is typically diagnosed in patients over the age of 65. At that age, many patients may have unrecognized medical problems that also need to be addressed. However, with the toll mesothelioma takes on a patient, symptoms that may mean a heart condition or diabetes often go ignored simply because of the burden of another round of doctors' appointments and tests.
With the possibility of having their own diagnostic device at home that can collect their health data, assess the illness, and determine the appropriate course of action, whether that requires medical intervention or not, mesothelioma patients will feel more empowered, less stressed and may realize a better quality of life.
The device "gives users access to continuous, reliable health data – the information patients and providers need to more effectively manage chronic health conditions, such as diabetes and congestive heart failure," according to Basil Leaf's website.
With the advancements in mesothelioma care bringing the cancer closer to being a chronic disease, this device can allow patients to focus more on their lives and less on their illness.
The Qualcomm Foundation, and other strategic partners, are committed to seeing the Tricorder competition bring marketable products into the hands of consumers, and they have pledged millions of dollars in initiatives to support the teams.
To find out more about this exciting project visit the Qualcomm Tricorder XPRIZE website.
Photo Credit: Qualcomm Tricorder XPRIZE
Sources:
Qualcomm Tricorder XPRIZE competition
http://tricorder.xprize.org/
Basil Leaf's website
http://www.basilleaftech.com/dxter/
Basil Leaf Technologies
http://www.basilleaftech.com/blog-1/
Dr. Paul E. Jacobs, executive chairman of Qualcomm Incorporated
http://tricorder.xprize.org/press-release/family-led-team-takes-top-prize-qualcomm-tricorder-xprize-competition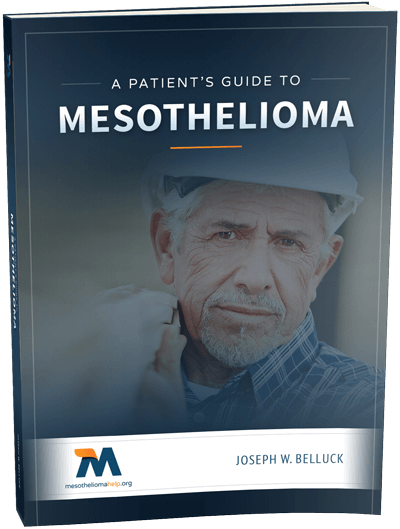 Free Mesothelioma Patient & Treatment Guide
We'd like to offer you our in-depth guide, "A Patient's Guide to Mesothelioma," absolutely free of charge.
It contains a wealth of information and resources to help you better understand the condition, choose (and afford) appropriate treatment, and exercise your legal right to compensation.
Download Now