Cryoablation is One Option for Managing Recurrent Mesothelioma
What can doctors do for patients when their mesothelioma recurs? Although many believe there are no options, recent advances have changed that. One of the options available is cryoablation. Cryoablation is a treatment that is being used for mesothelioma recurrences that involve the chest wall to help relieve pain and to improve the quality of life for mesothelioma survivors.
Cryoablation consists of controlled freezing to destroy cancer tumors in a safe and quick manner. It is sometimes used as a primary treatment for cancer of the kidney, liver, lung and prostate. Cryoablation can be used  to relieve pain that the tumor might be causing by pressing on other organs.
An English physician, James Arnott, is credited with being the first to use cold to destroy tissue, as early as the 1800s. He used a combination of ice and salt to destroy unhealthy tissue. The ancient Egyptians were the first to use cold to treat swelling, showing the roots of the procedure in some form go way back.
Cryoablation is usually administered percutaneously, or through the skin, directly into the area of the diseased tissue. Through a wand-like device, a cryoprobe is inserted, and a gas is used to freeze the tissue. The tissue is then allowed to thaw. This cycle may be repeated several times during the same treatment session.  Ablation occurs when the tissue has been frozen and the blood coagulates interrupting blood flow to the tissue, causing ischemia and cell death.
An April 2013 study from UCLA , "Role of percutaneous cryoablation in management of recurrent mesothelioma following lung sparing pleurectomy and decortications," reports that for localized malignant pleural mesothelioma recurrences, cryoablation following surgery can be performed safely as an outpatient procedure with minimal morbidity, a very high efficacy rate, and improved overall survival.
Recently, the procedure is being performed in other mesothelioma centers. Ask your mesothelioma care team if this procedure is right for you. The UCLA study was done on an outpatient basis, but other institutions have patients stay one night in the hospital. The procedure is usually done under general anesthesia.
Here is another promising adaptation of an established procedure to improve the quality of life and survivorship for mesothelioma patients!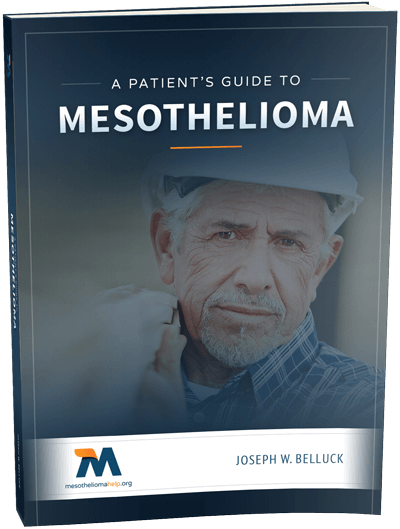 Free Mesothelioma Patient & Treatment Guide
We'd like to offer you our in-depth guide, "A Patient's Guide to Mesothelioma," absolutely free of charge.
It contains a wealth of information and resources to help you better understand the condition, choose (and afford) appropriate treatment, and exercise your legal right to compensation.
Download Now