Doctors Offer Perspective on Future of Treating Mesothelioma Patients
Absent the discovery of a blockbuster drug to stop the advance of malignant mesothelioma, medical researchers in the next five years will focus on refining the selection of mesothelioma patients best suited for surgery and other treatments, according to the caring doctors who treat mesothelioma.
Mesothelioma is an aggressive cancer that affects the lining of the lung or abdomen. The respiratory cancer is associated with inhaling asbestos dust and symptoms typically don't appear until 20 years to 40 years after exposure. There is no known cure, but treatment can slow the advance of mesothelioma and prolong the lives of some mesothelioma patients. Surgery remains the best option for reducing the presence of malignant mesothelioma tumors, but not all mesothelioma patients are suitable for surgery.
In a recent article in Expert Review of Respiratory Medicine, Drs. David Sugarbaker and Andrea Wolf, both of Brigham and Women's Hospital in Boston, write that the role of surgery in treatment of malignant pleural mesothelioma is to remove all visible tumors. Doctors generally use one of two procedures on mesothelioma patients who are undergo surgery.
One procedure, called an extrapleural pneumonectomy, is radical surgery involving the removal of the diseased lung, part of the diaphragm and part of the tissue lining the chest and covering the heart. The surgery is used for patients with mesothelioma that has spread to nearby tissues but has not metastasized throughout the body. Patients must be reasonably healthy to withstand the surgery.
The second procedure called pleurectomy/decortication, is used for patient with less extensive mesothelioma tumors. The surgery removes part of the tissue lining the chest but spares the lung.
Some patients can live longer by having a combination of radical surgery, chemotherapy and radiation.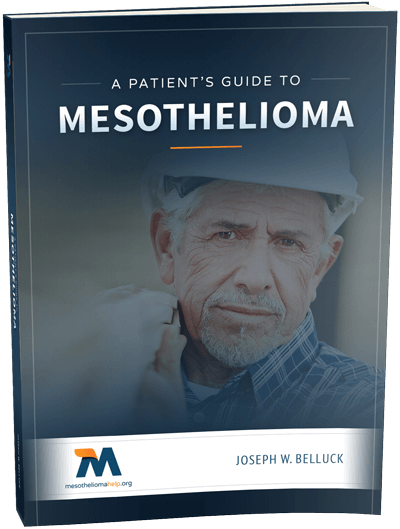 Free Mesothelioma Patient & Treatment Guide
We'd like to offer you our in-depth guide, "A Patient's Guide to Mesothelioma," absolutely free of charge.
It contains a wealth of information and resources to help you better understand the condition, choose (and afford) appropriate treatment, and exercise your legal right to compensation.
Download Now