Family Adjusts to a Slower-Paced Life After Mesothelioma Diagnosis
Before Dad's diagnosis in January of 2013, my parents' lives were upbeat and busy. They worked opposite shifts, Mom during the day and Dad evenings from 4pm-11pm. Since they didn't see each other much during the week, weekends were their thing. Whether they were working in the yard or going on a day trip somewhere, they always had something planned.
Our familyare huge sports' fans, and we can all thank Dad for that. We always made the time to go to different sporting events. Each fall we would usually go to two Philadelphia Eagles games. One game Dad would never miss was the Eagles vs. Giants game, and he would only take the boys. That was their bonding time and we girls had to stay home.
As a family we would go to another one together, and we would always have a good time taking the bus to Philly, grilling with the other people on the bus trip, dancing to the band Mr. Greengenes (the Eagles pep band a few years ago) and, of course, watching the game. Now, Dad enjoys watching games in the comfort of his own home.
My brother, Andrew, and Dad would also go to the NASCAR race in the Poconos each year. This was always their thing to do with my dad's racing friends. Unfortunately this year, he won't be taking Andrew; instead Andrew is now taking a friend. I'm not sure if Dad thinks it would be too much, or has just lost interest.
My parents also always vacationed somewhere each summer. Summer of 2011 was their last big trip to Key West with my mom's oldest sister and her husband: Aunt Sandy and Uncle Anthony. I know they had a wonderful time boating at sunset, going on a breakfast cruise to a small island, listening to bands on Duval Street and just enjoying the sunshine together. Summer 2012 saw them head to the Jersey Shore where they stayed in a condo for a few days and then came to stay with me for a few days in my shore house. We spent long days on the beach and enjoyed nice dinners at night followed by listening and dancing to a band. Now though, I've noticed that even going out to dinner is sometimes too much for Dad. Also, he often doesn't have an appetite either to eat a big meal.
The last get-away my parents had right before Dad's diagnosis was a trip to Montawk for their 37th wedding anniversary in September of 2012. They took a bus trip and visited my dad's favorite things – lighthouses and wineries, took mansion tours and enjoyed a few nice dinners. Of course they didn't announce to anyone about celebrating their anniversary since they aren't the flashy type. To make one of their dinners a little bit more special, I sent them a bottle of wine to be presented to them at dinner. The dinner was with the group they were with on the bus trip, so everyone saw what they were presented with it and they all congratulated them. They had a great time at dinner.
I think trips to these extents are over. Living with Mesothelioma limits you to much calmer and slow paced activities. We haven't figured out yet how to alter doing trips that Dad can handle. He gets out of breath very easily and doesn't have much stamina to do long days. It's time to figure out things for him to be able to do to start enjoying life again.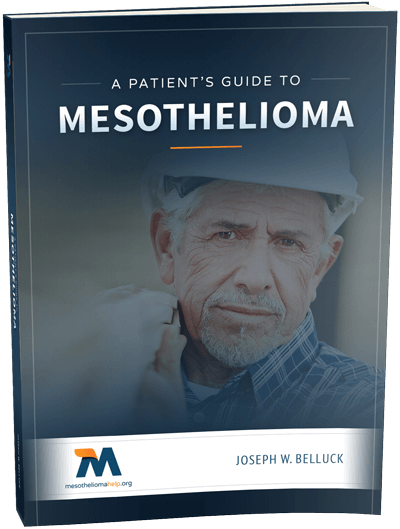 Free Mesothelioma Patient & Treatment Guide
We'd like to offer you our in-depth guide, "A Patient's Guide to Mesothelioma," absolutely free of charge.
It contains a wealth of information and resources to help you better understand the condition, choose (and afford) appropriate treatment, and exercise your legal right to compensation.
Download Now