First-Ever FDA Approval of Anti-Cancer Drug Based on Biomarker and Not Cancer Type Is Encouraging for Mesothelioma Patients
Last week MesotheliomaHelp reported on the drive towards using DNA sequencing on cancer patients in an effort to determine the appropriate treatment based on the patients' biomarkers. Keytruda, that targets the PD-L1 marker, was cited as an example in that article. Now, the U.S. Food and Drug Administration has granted accelerated approval to Keytruda as a treatment based solely on the genetic mutations of a cancer and not on the type of cancer.
The FDA announced in a May 23 press release, that this is the first-ever approval of a cancer treatment based on a common biomarker rather than the location in the body where the tumor originated. Keytruda has already been approved for in the U.S. for use in melanoma and lung cancer patients after a prior round of chemotherapy failed to stop progression of the disease. This approval is for unresectable or metastatic solid tumors, of any type, that have been identified as having a biomarker referred to as microsatellite instability-high (MSI-H) or mismatch repair deficient (dMMR).
Expert Insight
Richard Pazdur, M.D., FDA
"This is an important first for the cancer community."
"Until now, the FDA has approved cancer treatments based on where in the body the cancer started—for example, lung or breast cancers," said Richard Pazdur, M.D., acting director of the Office of Hematology and Oncology Products in the FDA's Center for Drug Evaluation and Research and director of the FDA's Oncology Center of Excellence. "We have now approved a drug based on a tumor's biomarker without regard to the tumor's original location."
This approval, according to the FDA, was based on the results of five clinical trials for patients with MSI-H or dMMR solid tumors. The patients had a variety of cancers, including colorectal and endometrial. Of the 149 patients who received Keytruda in the trials, nearly 40 percent had a complete or partial response, with 78 percent of those patients seeing a lasting response for six months or longer.
"The FDA's approval of this first-of-its-kind, tumor-agnostic, indication is further evidence of Merck's commitment to helping people with difficult-to-treat cancers, and to advancing the use of biomarkers to guide clinical decision-making," said Dr. Roger M. Perlmutter, president, Merck Research Laboratories, in a May 25 press release announcing the approval.
This approval has far-reaching implications for the mesothelioma community for future approvals of biomarker-driven drugs. Significant research has been conducted to find those biomarkers that drive the uncontrollable growth of mesothelioma, and other cancers, and this landmark approval moves oncologists much closer to offering personalized care. Targeted therapy improves quality of life and increases survival for cancer patients.
"This approval for Keytruda is a transformational milestone in our progress toward personalized immunotherapy, offering certain patients with difficult-to-treat cancers a medicine based on the genetic makeup of the tumor – regardless of tumor type," said Dr. Luis A. Diaz, Jr., head of the Division of Solid Tumor Oncology, Memorial Sloan Kettering Cancer Center.
Mesothelioma is an asbestos-caused cancer with a prognosis often less than 18-months. New, effective treatment options are critically important to allow patients to live longer lives.
Patients should talk to their oncologists to determine whether Keytruda is a treatment option for them. Visit the Keytruda website to find out more about the drug.
Sources:
FDA
https://www.fda.gov/newsevents/newsroom/pressannouncements/ucm560167.htm
Merck Research Laboratories
http://www.mrknewsroom.com/news-release/prescription-medicine-news/fda-approves-mercks-keytruda-pembrolizumab-adult-and-pediatr
Keytruda website
https://www.keytruda.com/?cc=F56EF8DC&csid=General_Brand_Lung&gclid=CjwKEAjw4IjKBRDr6p752cCUm3kSJAC-eqRtAmMqxwdRx6gjIkSciP4aQ8fZl3M5fzF-2jLSDG5kmhoCzVbw_wcB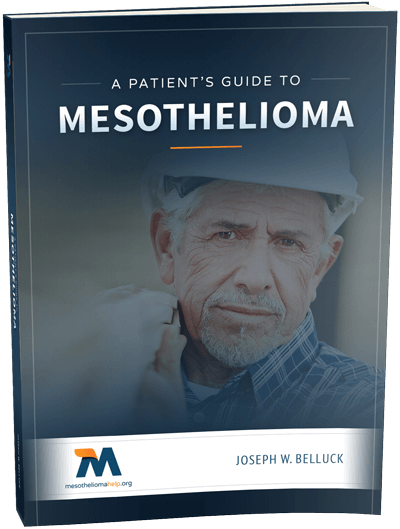 Free Mesothelioma Patient & Treatment Guide
We'd like to offer you our in-depth guide, "A Patient's Guide to Mesothelioma," absolutely free of charge.
It contains a wealth of information and resources to help you better understand the condition, choose (and afford) appropriate treatment, and exercise your legal right to compensation.
Download Now