FDA Flags Some Mesothelioma Drugs On Quarterly Adverse Events Report
Mesothelioma patients have limited treatment options, and often times these come with some known side effects. While these side effects, such as pain, nausea and fatigue, can be treated by your medical team, there are some "adverse affects" that may require the U.S. Food and Drug Administration to take a second look at the drug. In the FDA's latest quarterly watch list, it has identified seven cancer treatments, three of which are used in mesothelioma care, as having possible serious risks.
In "Potential Signals of Serious Risks/New Safety Information Identified by the FDA Adverse Event Reporting System (FAERS): April – June 2017" issued Oct. 6, the FDA listed 19 drugs from its FDA's Adverse Event Reporting System (FAERS). FAERS, according to the FDA, is a database that contains adverse event reports, medication error reports and product quality complaints resulting in adverse events that are submitted to the FDA. It is used as a tool by the agency to look for new safety concerns that might be related to a marketed product.
Although the FDA issues these reports, the agency warns that  the information does not give the complete story. The data, according to the FDA, is not an indicator of the safety profile of the drug or biologic, and the report does not establish "causation." In fact, the FDA reports that "there is no certainty that a suspected drug caused the reaction."
In the report, however, the FDA does indicate action it will take when looking into the data that caused a drug to end up on the report.
Identified Drugs and Related Mesothelioma Information
Keytruda (pembrolizumab): Complications of allogeneic hematopoietic stem cell transplantation (FDA is evaluating the need for regulatory action), and Stevens-Johnson syndrome and toxic epidermal necrolysis (the "Warning and Precautions" section of the labeling for Keytruda was updated to include Stevens-Johnson syndrome and toxic epidermal necrolysis.)
Opdivo (nivolumab): Complications of allogeneic hematopoietic stem cell transplantation (FDA is evaluating the need for regulatory action.)
Taxotere (docetaxel): Docetaxel and neutropenic enterocolitis (FDA is evaluating the need for regulatory action.)
Both Keytruda and Opdivo work by blocking the PD-L1 protein and activating the immune system, leading it to attack and kill cancer cells. These drugs are immunotherapy treatments and involve allogeneic hematopoietic stem cell transplantation, which translates to donor blood stem cell transplants. Opdivo clinical trials are ongoing for mesothelioma patients and they have shown "significant benefits" for patients.
Keytruda is approved for use in lung cancer and melanoma, and in an unprecedented move, in May the FDA approved the use of Keytruda for any cancer having a biomarker referred to as microsatellite instability-high (MSI-H) or mismatch repair deficient (dMMR), regardless of cancer type.
In the approval of Keytruda, the FDA noted potential complications or death related to allogeneic hematopoietic stem cell transplantation after using Keytruda. Stevens-Johnson syndrome is a rare, serious and potentially deadly disorder of the skin and mucous membranes that leads to a painful red or purplish rash that spreads and blisters.
Keytruda has brought hope to the mesothelioma community with mesothelioma warriors showing excellent results from use of the drug. Mavis Nye of England, an eight-year mesothelioma survivor, can now claim remission from her pleural mesothelioma after participating in a two-year clinical trial of Keytruda.
Docetaxel is a chemotherapy drug often combined with gemcitabine as a second-line treatment of lung cancer and mesothelioma. Neutropenic enterocolitisis, as triggered with docetaxel, is  a rare yet severe complication of chemotherapy signaled by extreme abdominal pain. If not treated properly, it can lead to death.
This report can be considered as another source of information when determining to use a drug for treatment, and is not an indication that you should halt treatment or use of a drug. Any questions you may have should be directed to your doctor.
Mesothelioma, an asbestos-caused cancer, is both incurable and deadly. Close to 3,000 Americans are diagnosed with the disease each year.
Talk with your doctor to find out which treatment is best for you.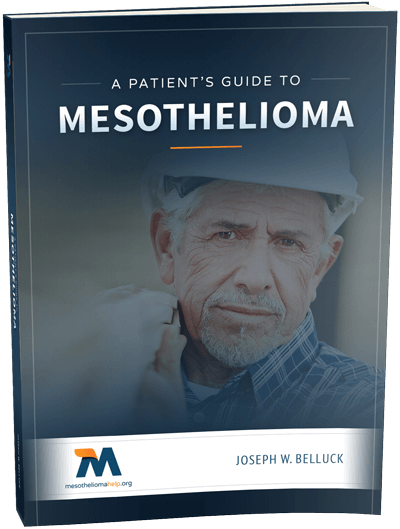 Free Mesothelioma Patient & Treatment Guide
We'd like to offer you our in-depth guide, "A Patient's Guide to Mesothelioma," absolutely free of charge.
It contains a wealth of information and resources to help you better understand the condition, choose (and afford) appropriate treatment, and exercise your legal right to compensation.
Download Now