FDA Grants Orphan Designation to Investigational Mesothelioma Drug
Boehringer Ingelheim announced in December that the U.S. Food and Drug Administration has granted orphan drug designation to its investigational cancer drug nintedanib for the treatment of mesothelioma.
Malignant pleural mesothelioma, a rare cancer caused by exposure to asbestos, is one of the nearly 7,000 diseases designated as rare, or "orphan," in the United States. An orphan disease status is assigned to a disease or disorder if it affects fewer than 200,000 Americans at any given time. Mesothelioma is diagnosed in close to 3,000 Americans each year, and nearly the same number die from the asbestos-caused disease. There is no cure for the cancer.
The FDA notes that the Orphan Drug Designation program provides orphan status to drugs and biologics which are defined as those intended for the safe and effective treatment, diagnosis or prevention of rare diseases or disorders, or that affect more than 200,000 persons but the companies are not expected to recover the costs of developing and marketing a treatment drug.
According to Boehringer Ingelheim, the maker of nintedanib, also known as BIBF 1120, the drug is an oral triple angiokinase inhibitor which simultaneously inhibits vascular endothelial growth factor receptors (VEGFR 1-3), platelet-derived growth factor receptors (PDGFR) and fibroblast growth factor receptors (FGFR 1-3) signaling pathways. These three different angiokinase receptors play an important role in blood vessel formation and in tumor growth and metastases.
Nintedanib "has shown promise as a potential treatment for malignant pleural mesothelioma in clinical trials to-date, and this designation is a validating milestone in its development," said Martina Flammer, M.D., Vice President, Clinical Development & Medical Affairs Specialty Care, Boehringer Ingelheim in a Dec. 14 press release from Boehringer Ingelheim. "We are proud to receive this designation for nintedanib from the FDA, resulting from our ongoing commitment to researching potential treatment options for rare cancers such as mesothelioma."
The FDA granted designation based on the positive results from the ongoing Phase II/III LUME-Meso trial. Boehringer reports LUME-Meso is an international trial evaluating the efficacy and safety profile of nintedanib plus chemotherapy (pemetrexed/cisplatin) followed by nintedanib, versus placebo plus chemotherapy (pemetrexed/cisplatin) followed by placebo, in patients with unresectable malignant pleural mesothelioma.
"We are very encouraged by these recent data; the [clinical trial] results have led to an extension of the study into a Phase III confirmatory trial that is now underway and will provide further insight into the potential of nintedanib for patients with MPM [malignant pleural mesothelioma]," said lead investigator, Professor Giorgio V. Scagliotti, University of Torino, Chair of the Department of Oncology, Italy, at the 17th IASLC World Conference on Lung Cancer in Vienna.
Patients are currently being recruited worldwide for the trial. To find out more, see ClinicalTrials.gov.
Sources:
ClinicalTrials.gov
https://clinicaltrials.gov/ct2/results?term=%22malignant+mesothelioma%22&recr=Open&pg=1
Boehringer Ingelheim
https://www.boehringer-ingelheim.us/press-release/nintedanib-granted-orphan-drug-designation-treatment-mesothelioma
17th IASLC World Conference on Lung Cancer
https://www.boehringer-ingelheim.us/press-release/clinically-meaningful-data-oral-nintedanib-mesothelioma-presented-world-conference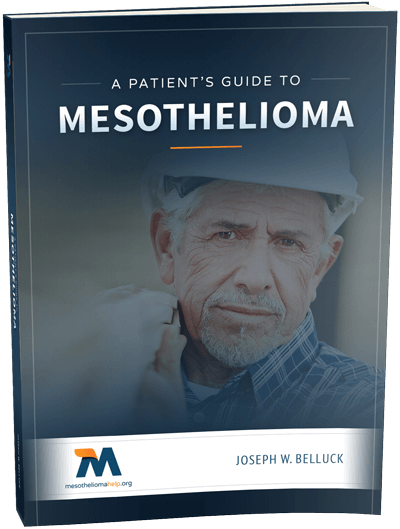 Free Mesothelioma Patient & Treatment Guide
We'd like to offer you our in-depth guide, "A Patient's Guide to Mesothelioma," absolutely free of charge.
It contains a wealth of information and resources to help you better understand the condition, choose (and afford) appropriate treatment, and exercise your legal right to compensation.
Download Now