Help Your Loved Ones Cope With, and Enjoy, Thanksgiving
Mesothelioma patients and their families may be hard-pressed to find anything to be thankful for this time of year. They may be coping with feelings of sadness, depression and fatigue that are contradictory to the festiveness of the season. However, turning their thoughts and conversations to what they still have – friends and family – instead of focusing on their hardships can make a difference in their outlook.
Experts at University of Wisconsin note that the way friends and families interact with their loved ones can make a big difference in a mesothelioma patient's ability to cope during this time. The holidays can be a tense time for cancer patients, and they may not want to talk about their health or situation. Take the cue from them in guiding the conversation.
Expert Insight
Henry David Thoreau
"I am grateful for what I am and have. My thanksgiving is perpetual."
Giving someone suffering from mesothelioma a false sense of the future can leave them feeling betrayed when their health begins to fail them. Instead of saying "You'll be fine," and "It will be okay," the UW cancer care team suggest you say or ask the following to help boost their mood:
"Is there anything I can help you with?"
"I'm here for you."
"Would you like to talk about it?"
Or simply, "Happy Holidays – it is so nice to see you!"
Even if your loved one is in the hospital over Thanksgiving, taking the time to think of something to be grateful for can lighten the mood. Just sitting quietly and watching the Macy's Thanksgiving Day Parade or a football game on TV can lessen the stress and loneliness of being in the hospital.
Remember too, that there are services available to help patients and their families cope with the holidays. Take advantage of the experts who can give you a healthy perspective on your feelings.
Holidays are a time to enjoy and reconnect with family and friends which is particularly important for someone who is ill. Try to not dwell in the past or to think too much about the future. Instead take the time to enjoy the moment. It is true that the future for mesothelioma patients and their families is uncertain, but staying grounded in the present can help keep negative thoughts at bay.
Know more about Mesothelioma and how you can deal with it.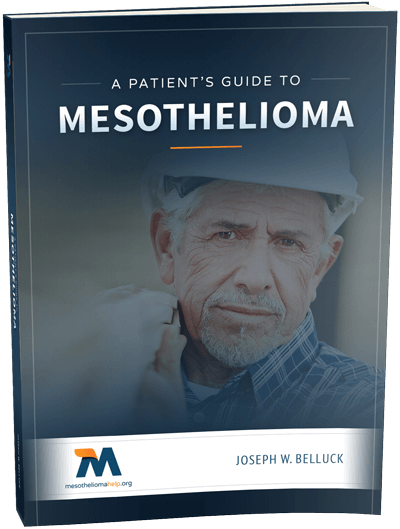 Free Mesothelioma Patient & Treatment Guide
We'd like to offer you our in-depth guide, "A Patient's Guide to Mesothelioma," absolutely free of charge.
It contains a wealth of information and resources to help you better understand the condition, choose (and afford) appropriate treatment, and exercise your legal right to compensation.
Download Now